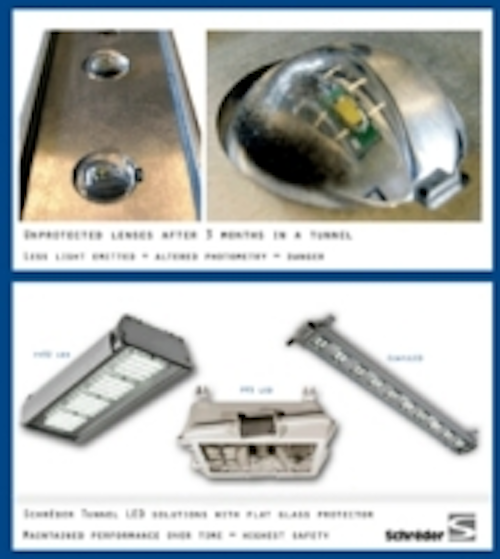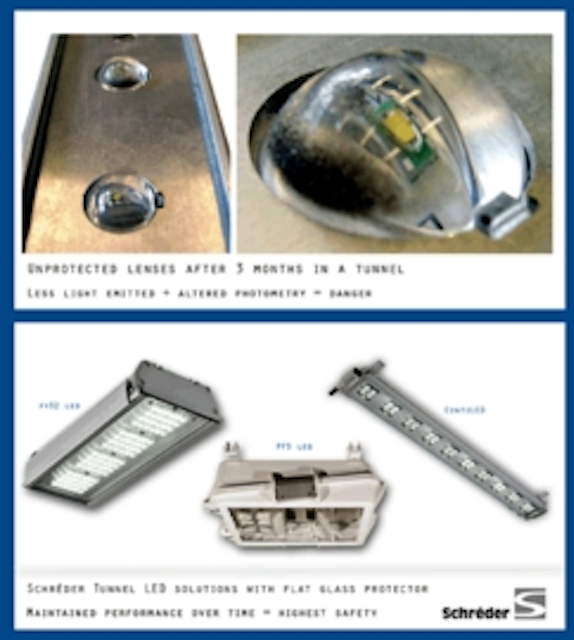 Date Announced: 16 Nov 2012
A study has shown the superiority of Schréder LED tunnel luminaires sealed with flat glass over luminaires where the lenses are in direct contact with the atmosphere. The conclusion: a glass protector ensures better safety for users, reduces maintenance requirements and contributes to energy efficiency.
Carried out over three months in two separate tunnels, a study by Schréder's R-Tech laboratory based in Liege (Belgium) compared, under strictly similar conditions, two different approaches to LED lighting in this area:
1.the approach used by Schréder, whereby luminaires are sealed with a flat glass protector and
2.the more common approach, where the lenses are in direct contact with the atmosphere.
After only twelve weeks in a tunnel, the typical dirt from an enclosed environment (exhaust fumes, soot, micro-particles, salt, etc.) already reduces the initial flux of unsealed luminaires by 19%, which is 11% greater than the loss experienced with the version fitted with flat glass. What is more, the dirty lenses had dangerously altered the light distribution.
After cleaning, the unprotected luminaires had irreversibly lost 2.5% of their lighting capacity.
The rapid deterioration in the performance of an LED solution using lenses in direct contract with the atmosphere directly or indirectly results in a number of major inconveniences:
- a more substantial investment (the installation must be "over designed" to make allowance for the rapid reduction in flux);
- users are put at risk;
- higher energy consumption and
- an installation with a reduced lifespan (irreversible damage due to cleaning).
By choosing to protect the lenses in its LED solutions with flat glass, Schréder provides the best solution on the market for the specific requirements of tunnel lighting. This is not only due to the energy efficiency and comfort that these solutions offer to users, who benefit from high-quality lighting in the three parts of the tunnel (entrance, interior, exit) and excellent colour rendering, but also due to their uncompromising approach to safety by using a design that preserves performance. Maintaining safety while reducing the need for maintenance is a major benefit for operators. Schréder understands this well and demonstrates on a daily basis the relevance of its technology with its LED tunnel solutions.
Contact
Schreder
E-mail:communication@schreder.com
Web Site:www.schreder.com