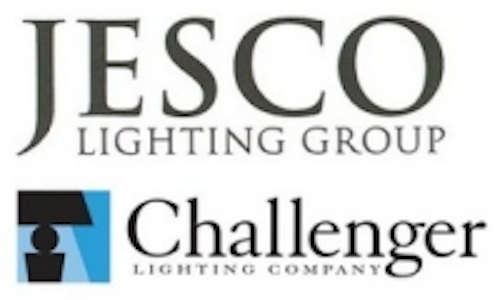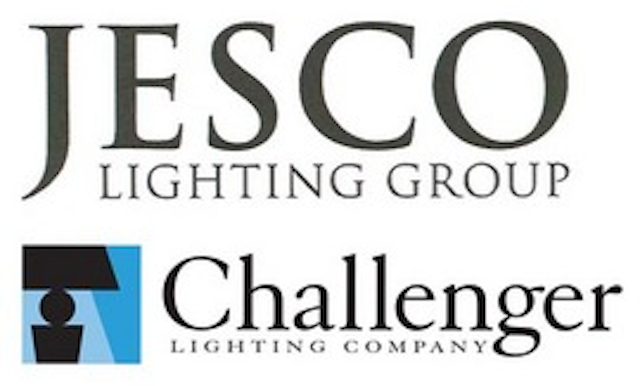 Date Announced: 01 Nov 2012
• LED light fixtures and a fast-growing range of other energy-saving architectural and decorative FF&E standard and custom interior hospitality luminaires from both manufacturers, now being marketed to each company's clients cooperatively, here and abroad.
Glendale, New York, October, 2012 — JESCO Lighting Group LLC and Challenger Lighting Company, Inc. jointly announce that effective now, each manufacturer's broad product range of good-design, energy-conserving interior lighting products and systems for use specifically in FF&E ("Fixtures, Furnishings & Equipment") hospitality markets nationally and internationally, are available to each company's design-specification and other clients. Announcement was made concurrently by Richard Kurtz, president and CEO of JESCO Lighting Group LLC, and by Bruce Barna, president, Bonnie Proctor, CEO, ownership partners in Challenger Lighting.
"As JESCO Lighting Group continues its steady 8-year growth, as a full-range architectural and decorative products and LED lighting pioneer, serving commercial, upscale residential and hospitality markets here and abroad, we have long admired the national sales and applications strength Challenger Lighting Company increasingly brings to FF&E hospitality market segments in particular; a highly specialized calling at which they are expert," comments Mr. Kurtz.
Challenger Lighting's product line as a hospitality-market contract-lighting manufacturer includes unlimited custom designs, and expansive production catalog offerings, for hotel and resort guestrooms, public spaces, restaurants, even healthcare markets. "There are many overlapping positives for hospitality and related professional lighting-design specifiers and corporate clients throughout North America," Mr. Barna notes.
JESCO Lighting Group continues to design, manufacture and sell its exclusive state-of-the-electronic-art LED and other energy-conserving lighting products and systems for non-FF&E hospitality, commercial and residential market segments.
Challenger Lighting Company takes over full marketing and sales responsibility of JESCO products specifically for FF&E hospitality installations, and that include current Challenger clients at major international hotel chains and restaurants. In particular, JESCO adds its technical expertise to Challenger Lighting new-product designs employing technologically advanced LED systems.
Mark Gardiner, senior national hospitality sales manager for JESCO Lighting Group, is managing the joint venture, its sales and training. He is actively providing sales and applications training of JESCO hospitality-market products to sales, order and technical specialists at Challenger Lighting, in its Elgin, Illinois headquarters.
Popular JESCO Lighting designs such as LED Flexible Linear, LED undercabinet lights, LED Slim Disks, LED Wall Washers, and low-voltage/LED Monorail track-lighting systems, are among many JESCO products available now from Challenger Lighting and its representatives in the FF&E sector of the broad hospitality market.
For questions or further information, Bruce Barna may be reached at: bbarna@challengerlighting.com; telephone: (847) 717-4700, fax: (847) 717-4720. Challenger Lighting is located at 2475 Alft Lane, Elgin, IL 50124. Visit Challenger on the worldwide web at www.challengerlighting.com.
Mark Gardiner may be reached at: markg@jescolighting.com; telephone: (440) 670-0103. Or contact JESCO Lighting Group LLC, 66-25 Traffic Avenue, Glendale, New York 11385. Telephone: (718) 366-3211. Fax: (718) 366-3646. E-mail: sales@jescolighting.com. Learn more on the worldwide web at: www.jescolighting.com.
Contact
Bill or Nancy Schoenfisch SCHOENFISCH INCORPORATED 336 County Highway 24 Richfield Springs, New York 13439 (315) 858-8393/Phone (315) 858-9635/Fax
E-mail:sales@jescolighting.com
Web Site:www.jescolighting.com