Spark solar-wind hybrid LED street light SPL-96 project in Russia
Nov 27th, 2012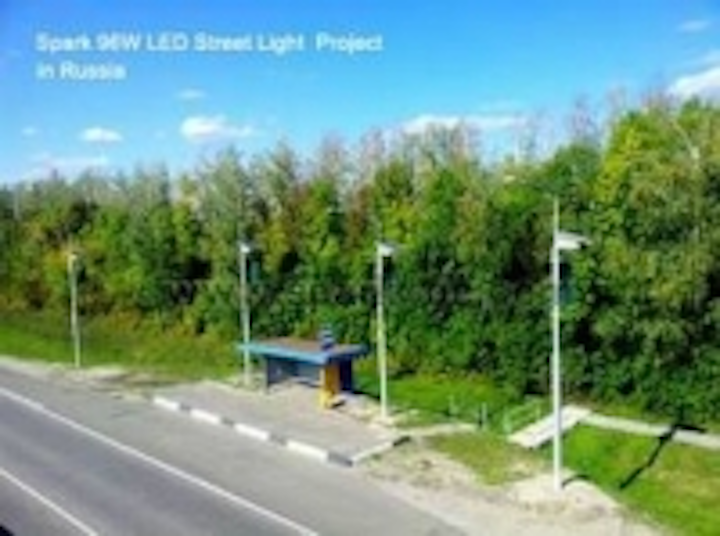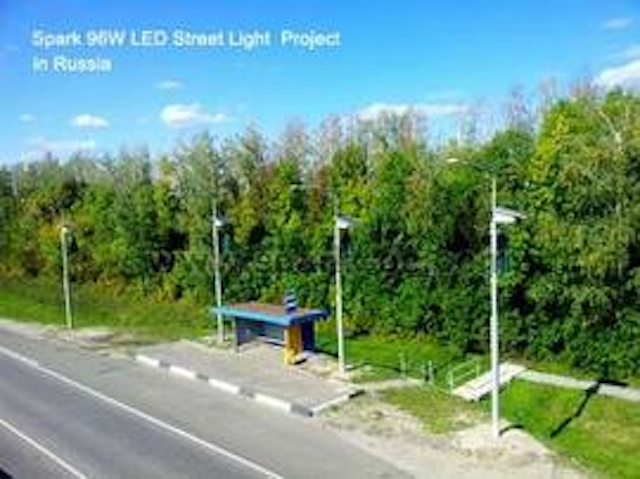 Date Announced: 27 Nov 2012
As one of the biggest LED lighting manufacturers in China, Spark has made remarkable achievement in the field of solar LED lighting, even in the field of solar-wind hybrid LED lighting. Followed by the Yunnan solar-wind hybrid project in 2011, Spark has finished another Solar-Wind Hybrid LED Street Light project in Russia recently.
This project is applied on a bus station, the whole system is very nice and delicate, applying vertical axis wind turbine, LIFE04 battery, with pole of 8.5 meter high. The detailed solution is as below:
LED Street Light: SPL-96 (115W, Philips Lumileds LED)
Solar Panel: 1 pc 100W/17.5V
Battery: 90AH/12V
Wind Turbine: 300W vertical axis wind turbine
Working Time: 8 hours every day
The whole system is now working stably and perfectly, of high brightness, saving more energy, the customer is quite satisfied.
With the first solar semiconductor laboratory of Shenzhen established in Spark Optoelectronics S&T Co. Ltd, Spark is further strengthened in solar solution providing. With the equipment for testing solar panel and battery, Spark will further ensure the reliability of the whole system.
As people are paying more and more attention to energy saving and environment protection, solar street lights and solar-wind hybrid street lights which are two efficient solutions to save energy will attract more focus. Relying on the high quality of LED street light, and the ability to provide whole solution, Spark will have promising future in solar lighting area.
Contact
Keziah Song General Manager Tel: (86 755) 8390 4366 Fax: (86 755) 8390 4766
E-mail:sales@spark-oe.com
Web Site:www.spark-oe.com