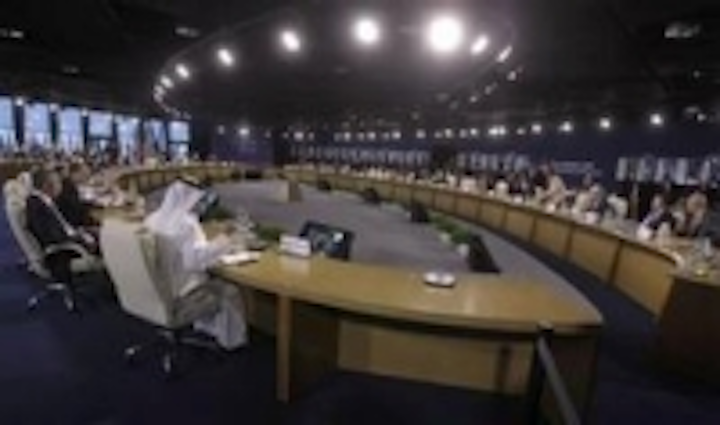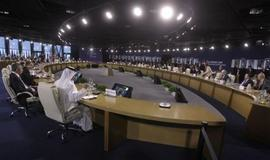 Date Announced: 30 Jan 2012
Cannes, France – When the most important leaders of the world meet to discuss the most urgent issues of financial markets and world economy, they want to do that in the most optimum way. The last G-20 Summit took place in Cannes, France, 3rd and 4th of November 2011. It was Elation Professional's part at least to assure clear visibility on the meeting table by providing high performance lighting equipment. In order to achieve best lighting conditions, 160 units of Elation's Opti Tri White LED PAR were installed. This fixture comes with groundbreaking Tri White™ technology and creates white light in cool, warm and amber shades.
Regardless of the shade of white, the light is extremely bright and flicker free making it ideal for major meeting surroundings as well as broadcast television, video production and general lighting. The 18 x 9 W 3-in-1 Tri SMD LEDs contained in the unit have a rated lamp life of 50,000 hours, and being LEDs they draw very little power and emit very little heat. Plus, tthanks to its compact size, the Opti Tri White fits into standard 30 cm truss. So, meeting members can keep a cool head and will not be distracted.
The Opti Tri White heavy duty die cast case is ideal for permanent or portable production applications, and with CE and cETLus approved this unit performs to the highest standards.
"The Opti Tri White is one of the most versatile high performance PARs you'll find in terms of the whites it produces and the number of different applications it's suited for," said Eric Loader, Director of Sales for Elation Professional.
The installation of Elation's Opti Tri White was conducted by French distributor ESL (www.esl-france.com )
Contact
Elation Professional 866-245-6726
E-mail:abby@fucinipro.com
Web Site:www.elationlighting.com