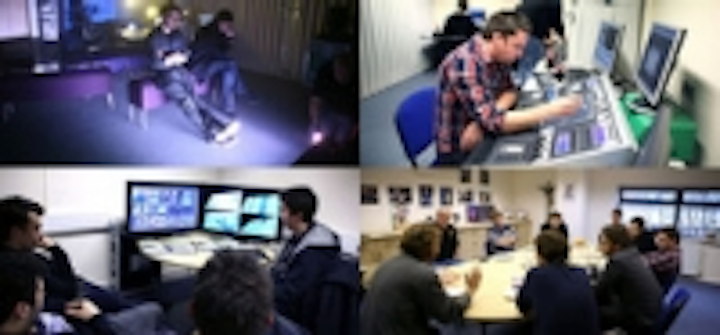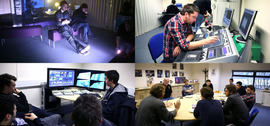 Date Announced: 20 Jan 2012
A.C. Entertainment Technologies (AC-ET) Ltd. recently hosted a workshop event for some of the industry's hottest lighting designers to showcase its portfolio of next generation LED, lighting and video control technologies from leading manufacturers - including Chroma-Q™, GLP, PixelRange, VARI*LITE, Jands Vista and Green Hippo.
Held in the state-of-the-art demo facilities at AC-ET's High Wycombe HQ, the workshop was the initiative of the UK sales team's Paul Biggerstaff and Jez Johnstone of leading UK rental company, Siyan.
Siyan has long been known as a melting pot for innovative, talented LDs and supplies equipment to some of the UK's most creative and visually interesting tours.
Seven in-demand lighting designers attended the workshop: Jamie Thompson (The Script), Johnny Barker (Scouting For Girls), Dave Cohen (Wretch 32, Simian Mobile Disco), Greg Hill (Biffy Clyro, Nero), Andres Atkinson (Eliza Doolittle, Framing Hanley, Little Boots), Louis Oliver (Jessie J, Katy B) and Chris Swain - AKA 'Squib' - (Two Door Cinema Club, Bombay Bicycle Club).
The LDs were split into small groups for sessions demoing the various LED, Jands Vista and Green Hippo products, guaranteeing that everyone received individual attention.
In the LED session, demoed by AC-ET's Paul Turner, the LDs had the opportunity to get hands-on with key Chroma-Q products - for which AC-ET is the exclusive UK dealer - including the new Color Force™ Compact RGBA fixture and Studio Force™ white fixtures. Other LED lightsources showcased included PixelRange and LED moving lights from VARI*LITE and GLP.
AC-ET's Andy Mahaffey showed some of the many innovative features of the Jands Vista lighting and media control range, running the next generation Vista v2 software.
This was the first time that most of these LDs had the chance to properly explore a Vista console with the Vista v2 software. After a basic overview of the desk, they were all programming for themselves within an hour – a testament to the user-friendliness of the console. The LDs were particularly impressed by the way the simple, powerful Vista v2 software seamlessly interfaces with media servers.
Tom Etra and James Heron from Green Hippo attended to demo their latest media servers and software options, for which AC-ET is the exclusive UK and Ireland distributor.
Jez Johnstone says, "It was an overwhelmingly positive experience for all. A well planned event that was informative, interactive and offering a nice relaxed atmosphere, where everyone could learn and absorb new information."
Paul Biggerstaff concludes, "We've had great feedback from everyone who attended the workshop, so we will definitely be continuing the initiative with more events in 2012."
Contact
Louise Stickland +44 7831 329888 +44 1865 202679 A.C. Entertainment Technologies Ltd. +44(0)1494446000
E-mail:louise@loosplat.com
Web Site:www.ac-et.com