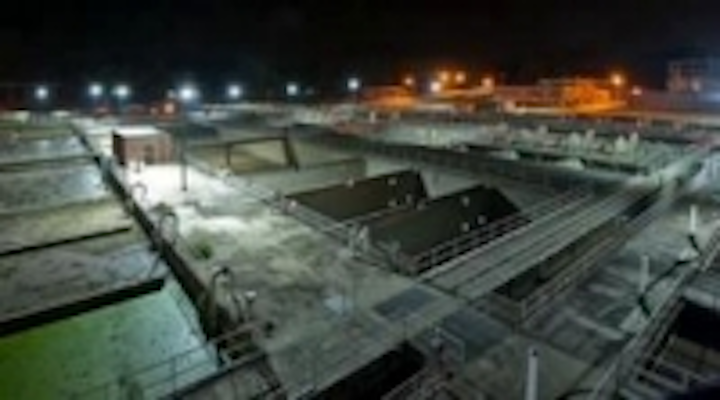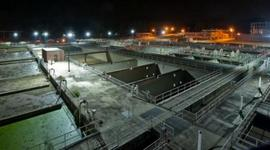 Date Announced: 31 Jan 2012
DURHAM, N.C. As part of a city-wide goal to reduce energy usage and improve nighttime visibility and overall facility safety, the South Durham Water Reclamation Facility installed energy-efficient LED lighting from Cree, Inc. (Nasdaq: CREE).
The new Cree lighting simultaneously addresses the facility's competing exterior lighting requirements – the need to improve safety and light levels and the need to reduce energy usage and maintenance costs.
"This lighting project delivers multiple benefits," said Joel Reitzer, director of the City's General Services Department. "Not only were we able to increase visibility and provide our workers with a safer, more productive work environment, but we also reduced our energy consumption by nearly 64 percent for the fixtures that were replaced with the new Cree lighting. It really is a 'win-win' for the City's bottom line and ultimately, Durham's environment."
The South Durham Water Reclamation project was part of an overall effort by General Services, Community Development, Water Management and the City-County Sustainability Office to reduce energy use in the City. Forty-five Cree THE EDGE® LED area luminaires were installed in the processing area and at the front gate of the South Durham Water Reclamation Facility. The Durham facility operates 24x7 and monitoring of the system often occurs at night.
"The City anticipates significant maintenance savings in both material and labor with the new Cree lighting," Reitzer continued. "After installing Cree LED lighting, we are realizing a significant reduction in energy usage and savings in energy costs while dramatically improving visibility and overall safety. The installation and lighting costs are short-term, but the energy savings, lower maintenance costs and safety benefits will endure."
"Facilities with 24/7 operation have unique lighting requirements," said Al Safarikas, director marketing, Cree lighting. "Cree is committed to developing innovative LED lighting solutions that address the diverse needs of our growing customer base. For the South Durham Water Reclamation Facility, Cree provides energy savings, reduced maintenance, and the illumination needed for nighttime productivity and safety."
The City of Durham, http://durhamnc.gov, utilized federal grant funds from the American Recovery and Reinvestment Act through the U.S. Department of Energy's Energy Efficiency and Conservation Block Grant Program to fund the $106,000 lighting project. The installation was completed in April, 2011.
About Cree
Cree is leading the LED lighting revolution and making energy-wasting traditional lighting technologies obsolete through the use of energy-efficient, mercury-free LED lighting. Cree is a market-leading innovator of lighting-class LEDs, LED lighting, and semiconductor products for power and radio-frequency (RF) applications.
Cree's product families include LED fixtures and bulbs, blue and green LED chips, high-brightness LEDs, lighting-class power LEDs, power-switching devices and RF devices. Cree products are driving improvements in applications such as general illumination, electronic signs and signals, power supplies and solar inverters.
For additional product and company information, please refer to www.CreeLEDLighting.com. To learn more about the LED Lighting Revolution, please visit www.creeledrevolution.com.
Contact
Michelle Murray, Cree, Inc. Corporate Communications
E-mail:michelle_murray@cree.com