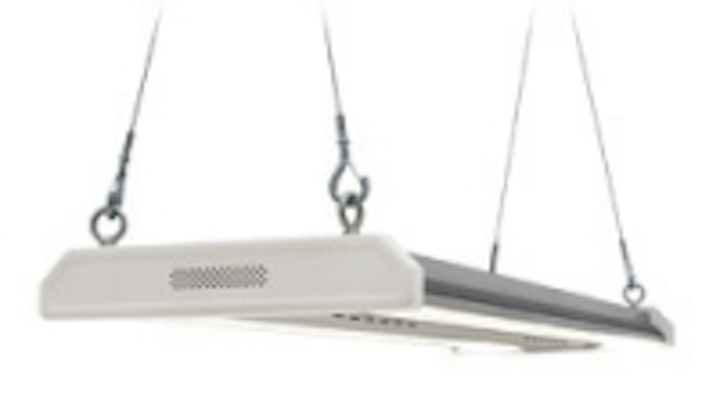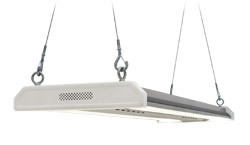 Date Announced: 14 Jan 2012
Quick Overview
The Lusio Essentials Bay 2-Module fixture delivers up to 11,960 lumens with an efficacy of 103.1 lumens per watt in an economically designed housing for high bay and low bay applications.
The 2-Module fixture (LW-LUSIO-ES-BAY-2M) is a great energy-saving alternative to 4-lamp T5HO fluorescent and 250W metal halide fixture in a linear 1x4 ft housing.
This fixture is typically used for mounting heights of 15-30 feet (4.5-9 m).
7-year Warranty
Price Starting at $377 ea.
Dimming Opition $20
Custom Installed Motion Sensor $60
Custom Hanging Kit $30
http://www.lusiolighting.com/pdf/datasheets/LW-LUSIO-ES-BAY-2M.pdf
Key Features Light Output and Power Consumption: 5000K (Nominal) 4000K (Nominal) Average Lumens 11,960 lms 11,380 lms 11,670 lms Wattage 116 W 123 W 120 W Efficacy 103.1 lm/W 92.5 lm/W 97.7 lm/W Power Input: 110-277, 347-480 VAC (50/60 hz) Power Factor: Minimum 0.9 (Typical 0.99) Total Harmonic Distortion: Less than 20% Dimming: Optional factory installed dimmable power supply that interfaces to standard third party 0-10V dimmers. Sensors: Optional on-board, factory installed occupancy sensors available. L70 Lifetimes: 70,000 hours minimum Distribution: 115° distribution. 1.44 maximum spacing criterion (diagonal) allows for wide fixture spacing and high uniformity.
Contact
Runion Energy Solutions 304-263-3695
E-mail:prunion@runionenergy.com
Web Site:www.runionenergy.com