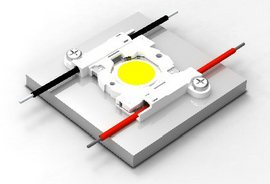 Date Announced: 27 Jan 2012
Darmstadt, Germany – TE Connectivity announces a new addition to its solderless LED socket series -- the Type NL2 socket for quick termination of NICHIA COB-L LEDs. This new offering, which provides a reliable mechanical and electrical connection of an LED onto a heat sink, enhances TE's existing broad portfolio of solderless LED sockets.
Connecting LEDs without the need to solder manually offers many benefits. Soldering is a time-consuming and painstaking process, as LEDs are difficult to solder to, with solder flux splatter possibly damaging the light emitting area of the LED. In addition, a solder termination is awkward to undo and over time can become a weak point which can considerably reduce the reliability of the connection. The heat from the soldering process can also transfer to the LED and shorten its lifespan. In contrast, the solderless socket enables greater uniformity in connections with a strong yet removable connection and no need for heat application.
The one-piece connector assembly features TE's proven poke-in wire termination method for 18 through 22 AWG solid,18 through 20 AWG prebonded and 18 AWG stranded wires. Termination to the COB-L LED is simplified with locating features that position the LED into the socket during the assembly process. This creates mechanical protection for the ceramic LED edges. In addition, the integrated polarization feature enables a secure and lasting connection, which fits solid, stranded or fused wire. This makes the installation process extremely quick and easy with minimal manual work, thus helping to reduce time and costs.
Additional product features include:
- A cleared area designated for reflector mounting that accepts custom or commercially-available optics
- UV-resistant housing material to prevent housing discoloration
- Molded polarity indicator on housing.
The socket has been designed specifically for chip-on-board LEDs from NICHIA. It is suitable for applications such as retail lighting, commercial down lights and high bay lighting. It is UL-recognized to UL 1977 for use in UL 8750 applications and is RoHS compliant.
For more product information contact your local TE Product Information Center or visit www.te.com/lighting.
About TE Connectivity
TE Connectivity is a global, $14 billion company that designs and manufactures approximately 500,000 products that connect and protect the flow of power and data inside the products that touch every aspect of our lives. Our nearly 100,000 employees partner with customers in virtually every industry—from consumer electronics, energy and healthcare, to automotive, aerospace and communication networks—enabling smarter, faster, better technologies to connect products to possibilities. More information on TE Connectivity can be found at http://www.te.com/.
Contact
Lorna Putze +49 (6151) 607 - 3579
E-mail:lorna.putze@te.com
Web Site:www.te.com