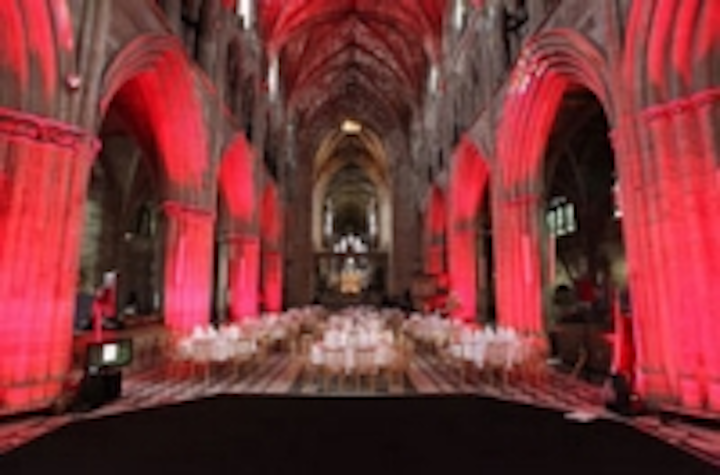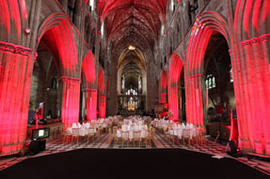 Date Announced: 23 Jan 2012
The lighting division of leading UK live event and communications agency, DRP Group, has made its first investment in Chroma-Q™ products with the purchase of 24 Color ForceTM 48 LED battens.
DRP is a single source supplier to a multiplicity of corporate presentations, live events, festivals, awards shows, parties and charity works. Their HQ is in the Midlands; they also have offices in London and Manchester and work all over the UK and internationally.
Richard (Rikki) Parmenter, DRP's Head of Lighting explains that they specifically wanted an LED batten fixture that would light walls, cyc, banners and architectural features with a smooth, linear wash.
After comprehensive comparisons between a number of fixtures, Chroma-Q was selected as the brand of choice for DRP. Rikki and his colleague MD Adam Pardoe were both equally impressed and soon made the decision to invest in the Color Force.
Apart from seeing Color Force in action for themselves, Chroma-Q had also been recommended by several of their regular freelancers.
They liked the richness of the colours and the fact that the Color Force offers a clean white which can be either cold or warm by seamlessly blending amber alongside the RGB LEDs for an enhanced colour gamut. This also delivers a better range of warmer colours - from the most bold, striking saturates and primaries to a near infinite selection of delicate, subtle pastels.
Another key factor for the DRP lighting team was the smooth fades to blackout, which Rikki describes as "completely seamless" and "virtually imperceptible from those of generics", with no flickering or juddering. This is due to the Color Force's finely tuned 'theatrical grade' dimming curve, which Rikki explains "makes them excellent for using and blending in with conventional incandescent and other light sources."
Since buying the Color Force fixtures, they have been in demand for a diversity of projects. The Color Force 48 version also happens to be the same width as DRP's standard modular set panels, which are 4 x 10 ft. When used for lighting sets, "They can really bring depth and additional dimension to our designs with their colour and intensity" states Rikki.
They have been perfect for all the applications DRP had in mind - illuminating cycs, backdrops, banners, and an assortment of large areas. The cyc lens plate - devised for throws of up to 5 metres – is proving very useful for these applications. They have also been used extensively for side-stage lighting and at sites/in venues where power is limited.
DRP recently used the fixtures for lighting the Hereford & Worcester Chamber Business Awards 2011, staged in the elegant ecclesiastical environs of Worcester Cathedral.
They were placed on the floor and used to gently highlight 14 imposing pillars running along the Nave, in the process also lighting areas of the ceiling 20 metres above, such is the intensity of the units. They were programmed to produce red and white looks - the corporate colours of the Chamber of Commerce - beautifully picking out the many detailed architectural features in their path.
Rikki also comments on the robust build quality, which is another essential consideration for a busy operation like DRP, where reliability is absolutely paramount.
Contact
Louise Stickland +44 7831 329888 +44 1865 202679
E-mail:louise@loosplat.com
Web Site:www.chroma-q.com