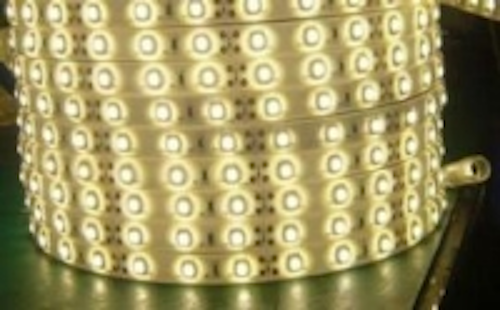 Date Announced: 02 Aug 2012
Karlsruhe/Germany – Zenaro Lighting extends itt range of LED lifestyle lighting solutions by offering a new linear flexible LED light stripe. Zenaro's DECOFLEX is available in five versions for ultra-flexible use in a wide range of outdoor and indoor applications and is ideal for innovative and creative lighting ideas in professional ambience lighting environments.
All five versions – LED Linear RGB, LED300 Linear, LED600 Linear, LED600 HO Linear and LED Linear C T ww-cw (Color Temperature) – share features such as size (5000mm x 10mm), a beam angle of 120°, an operation temperature range from -20°C to +75°C and dimmability.
The main differences lie in their light colors (RGB, white betwreen 2900K and 6500K, blue) and their power consumption (4.8W/m to 19.2W/m). Type
LED600 HO (hight output) with a color temperature range from 2900K to 6500K uses advanced SMD-LEDs with 10-12 Lumen per LED that achieve a luminous flux between 1200lm and 1440lm per meter. DECOFLEX LED stripes weigh 1.8 kg max and are cutable by every 50, 100 or 200 mm.
The new LED-stripes feature IP-65 silicon U-type protection (protection class III) and are self-adhesive via a 3M glue stripe on the backside for easy fixing on all smooth surfaces. Zenaro's DECOFLEX comes with a 24V DC power supply and a user-friendly TOUCH Slide remote control for steppless dimming and choice of color temperature. The TOUCH RGB remote control includes an additional color changing function. The service life of this product with a 2 years warranty is at least 50,000 hours (L70).
More information and data sheets at
http://europe.zenaro-led.com/en/component/k2/itemlist/category/83-decoflex
About Zenaro Lighting
Zenaro Lighting offers perfect lighting solutions for every need using the best LED technology available. Zenaro's product range includes technically advanced and expertly crafted street, industrial, office and lifestyle lights as well as retrofit luminaires. More information at www.zenarolighting.com
Contact
Viviane Baltzer, Baltzer Communications Tel: +49 (0)89 / 123 92 993 Mob: +49 (0)170 / 553 16 73
E-mail:press@zenarolighting.com
Web Site:www.zenarolighting.com