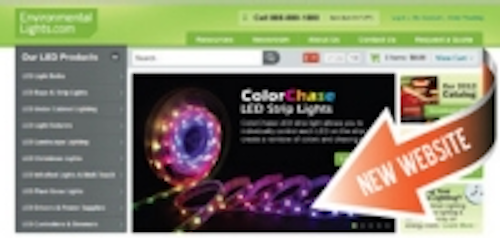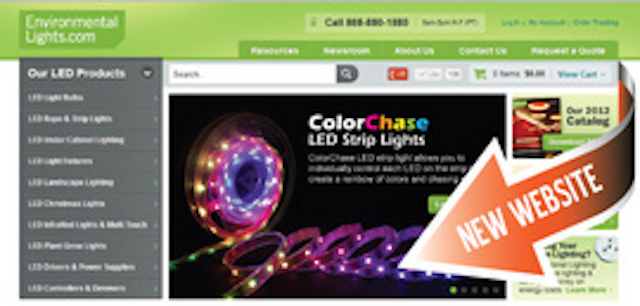 Date Announced: 13 Aug 2012
EnvironmentalLights.com, a leading source of sustainable, energy-efficient LED lighting products, announced today that they have released a new streamlined e-commerce website that will make it easier for consumers and professionals to shop online for LED lighting solutions.
"We are thrilled about our new website and the flexibility it gives us to display our wide range of products," stated President and CEO Greg Thorson. "Our new website represents the professionalism of our team and the quality of the products we sell. We have a fantastic team supporting us and we have a long list of improvements still to come."
EnvironmentalLights.com performed extensive design and research to improve the online store and enhance the special features on the website. The goal was to provide consumers and professionals with the best shopping experience possible, while also adding helpful resource materials throughout the site.
"For professionals who are already savvy in LED lighting we provide easy navigation to quickly add products to their shopping cart," said Stacy Brown, Marketing Director. "And for consumers new to these types of products, we added educational tips and materials to empower them to learn more about LED lighting and 'green' living at home."
The result is consumers now have the option to shop the way that best suits their needs, with products searchable by name, description, product number, category and even product attributes like color temperature and wattage.
Customer Account Management
The new website also includes a robust customer account management after login. Now customers can check out faster by using stored addresses, easily monitor order status and shipment tracking, as well as look at past order history and place reorders when necessary.
Resource Library
One of the newest areas of the website is the Environmental Lights Resource Library, which combines the engineering expertise of the team along with powerful documentation to help customers quickly and easily understand LED lighting products and systems. The library features buying guides, installation tips, videos, FAQs, lighting terminology and even calculators for determining energy savings and voltage drop.
"We test all of our products in our own laboratory. This way we are able to precisely capture the specifications and understand the capabilities of each product, enabling us to recommend lighting systems for any type of application or environment," said Alicia Cheng, Director of Product Development. "We want our customers to trust that we are providing them with the complete information on the products they are installing, and that we care about the outcome of their project as if it were our own."
Newsroom & Project Spotlights
The Environmental Lights Newsroom allows you to learn more about the LED lighting industry as a whole, and explore ideas and applications for using LED lighting. Not to mention the newest product releases and Project Spotlights featuring creative designs by current customers.
Social Media Integration
EnvironmentalLights.com now also offers a full social networking presence online for interacting with their customers in whichever platform they prefer. Sites such as Facebook, Twitter, Pinterest, YouTube, LinkedIn, Google Plus – even specialized social sites like Houzz, for remodeling and design professionals. EnvironmentalLights.com actually won a 2012 "Best of Remodeling" Award from Houzz in the Customer Satisfaction category.
About EnvironmentalLights.com
EnvironmentalLights.com is a leading resource for sustainable, energy-efficient LED lighting products to meet the needs of business, commercial and residential clients. Founded in 2006 by Greg and Anne Thorson, the company offers a broad spectrum of light bulbs, strip and rope light, under cabinet light systems, Christmas lights, dimmers, controls and necessary hardware for any lighting project. For more information, please visit www.EnvironmentalLights.com.
Contact
EnvironmentalLights.com Stacy Brown Marketing Director 11235 W. Bernardo Ct., Suite 102 San Diego, CA 92116 888-880-1880
E-mail:sbrown@environmentallights.com
Web Site:www.EnvironmentalLights.com