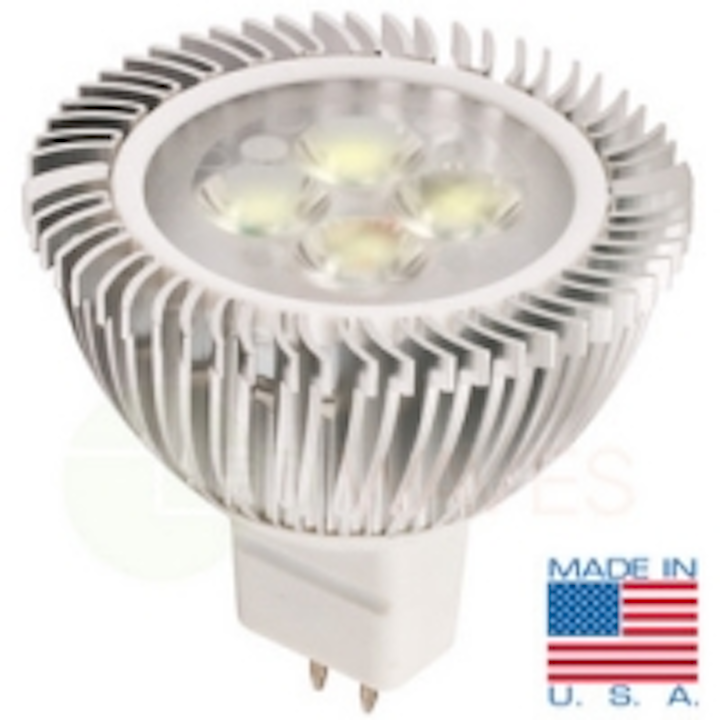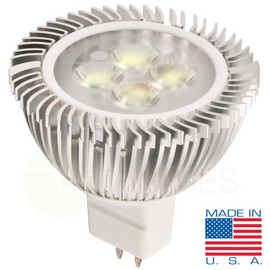 Date Announced: 06 Aug 2012
LED Waves is a Service Disabled Veteran Owned Small Business that has supplied homes and businesses with energy-saving LED lights since 2001. In 2010 the company launched its OEM arm onsite in Brooklyn, NY, distinguishing itself as perhaps the smallest manufacturer of LED light bulbs in the USA. LED Waves set out to prove that affordable, high quality LED lighting is possible without offshore manufacturing.
The Los Angeles 2.0 MR16 LED Light Bulb is the latest example of the realization of LED Waves' goal. It is a 4.5 Watt replacement for the 35 Watt halogen 12v bulbs commonly used in track lighting and display cases. Whereas imported LED MR16s of similar brightness (approx. 350 lumens) typically retail over $32.00, the LA 2.0 has a per unit price of $19.99.
Several factors allow LED Waves to offer their MR16 at such a competitively low price. Perhaps most notable is the array of Cree XB-D chips that go into each bulb. Like its XLamp predecessors, the XB-D combines brightness, efficiency, and superior quality of light.
What sets this new chip apart is its price tag; Cree developed low-cost, high performance silicon carbide substrates with the goal of accelerating worldwide adoption of LED lighting.
Production in the USA also helps lower the cost of LED Waves' LED MR16. The company saves a third of manufacturing costs by cutting out middlemen based in China, as well as international freight charges.
Building these LED light bulbs in-house also grants LED Waves a higher level of hands-on quality control. This gives them the confidence to offer a 5 Year Warranty on each LA 2.0.
The Los Angeles 2.0 LED MR16 is available online in Warm White (3000K) or Neutral White (4000K) and in beam angles of 17 or 37 degrees. Large quantity discounts and customizations are available by calling 1(800)986-0169.
For the month of August, LED Waves is offering 10% off the LA 2.0 MR16 LED light bulb. This item is also among the American-made products eligible for this month's free shipping offer. Visit LEDWaves.com for coupon code and details about this promotion.
Contact
James Coburn, Sales Manager phone: (800)986-0169 fax: (212)677-6945
E-mail:james@ledwaves.com
Web Site:LEDWaves.com