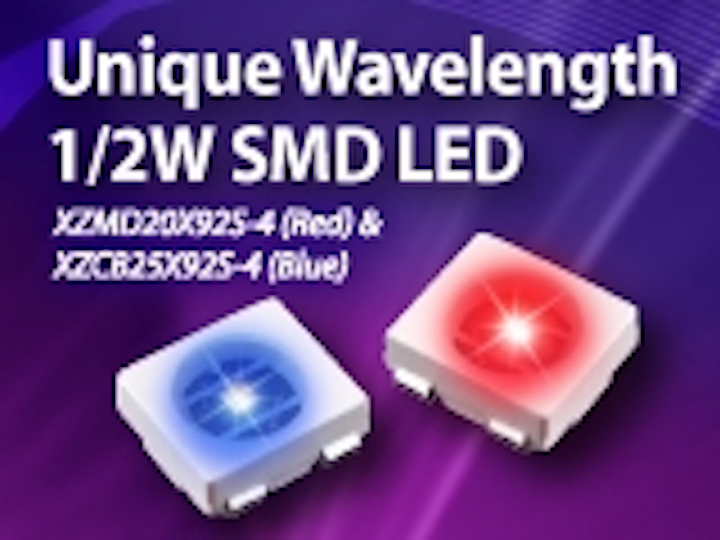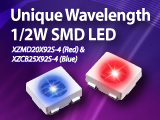 Date Announced: 21 Aug 2012
SunLED has taken a step forward towards supporting unique applications beyond basic indication that will broaden the spectrum of infinite design possibilities. With the introduction of our new mid-power 660nm Red LED and our 450nm Blue LED, we are opening doors to fill a void in markets that traditionally used other light sources such as laser diodes, fluorescent tubes, or HPS bulbs to serve a function beyond indication.
The unique wavelengths of these two 1/2W SMD LEDs are in the range that can promote skin regeneration, hair rejuvenation, efficient plant growth, and even aquarium lighting to create an ecosystem out of an ordinary habitat. Their small package footprint provides a bright, wide spread of light and can be used in an array to create the necessary ambient light for any intended application. Because of their mid-power nature with a 150mA operating current, the parts have better heat dissipation and lower heat build-up than high power LEDs that are 1W or greater.
Product Features:
•3.5x3.5mm Compact Footprint
•Moisture Sensitivity Level (MSL): 2a
•ESD Protected with embedded Zener diode
•Low profile height: 1.15mm
•Operating Current : IF= 150mA
Product Applications:
•Geoponics / Aeroponics
•Medical
•Accent Lighting
•Aquarium Lighting
•Entertainment / Gaming
Contact
SunLED Corporation 4010 Valley Blvd. #100 Walnut, CA 91789-0935 TEL: 909-594-6000 FAX: 909-594-6008
E-mail:sales@SunLEDusa.com
Web Site:www.SunLEDusa.com