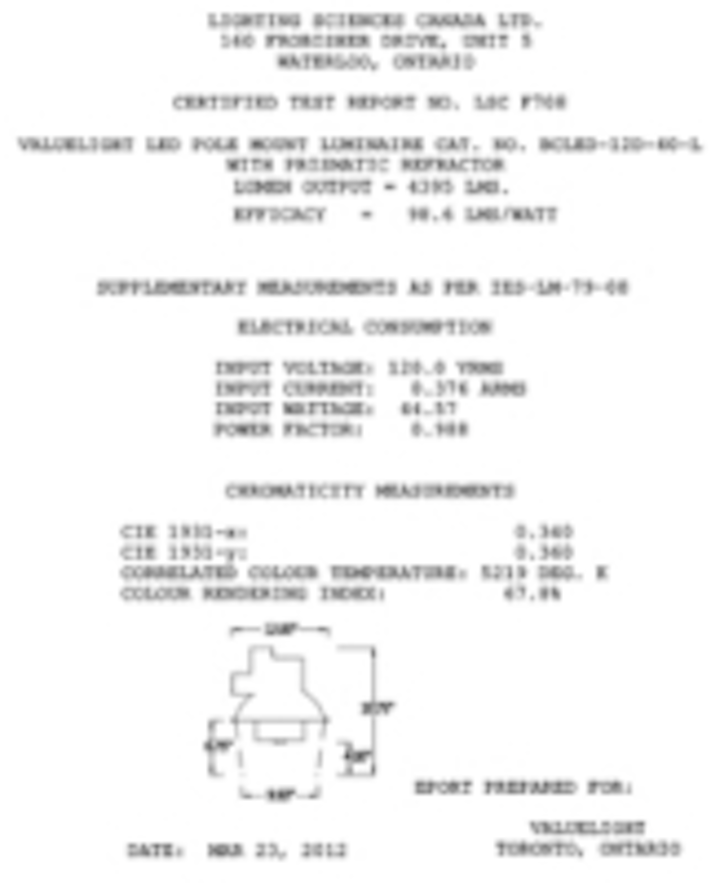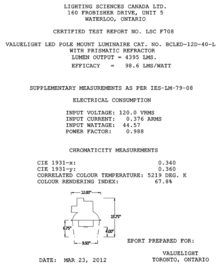 Date Announced: 23 Mar 2012
Toronto, ON - Valuelight announces the immediate availability of its fourth generation LEDine street lighting / dusk-to-dawn LED luminaire with total efficacy reaching 100 lm/W.
LEDine BCLED series solid state luminaire is a well-tested, field proven replacement for outdoor 250W Mercury lights and 150W HPS lights, and consumes only 44.6 Watts with low Total Harmonic Distortion and Power Factor 0.988. Ideal for use is in the street lighting, parking lot, perimeter security and dusk-to-dawn applications.
The 44.6 Watt LEDine BCLED extended life "Install & Forget" 100000 hour L70 life version now also fully replaces popular 100W induction lighting "cobra heads". It outputs total of 4395 delivered lumens at CCT 5219K as per Lighting Sciences Canada Certified Test Report released today. The vast majority of other brands in the 4400 lumen LED class still need 70 to 80 Watts to deliver a comparable light output. The major new Valuelight luminaire performance improvement leads to a substantial cost reduction of LED drivers, heat sinks, enclosures and LED light sources.
Valuelight always passes newly unearthed cost reductions directly to its customers as its principal corporate philosophy. The constant research and cost reduction effort without compromising quality or performance leads to a very affordable "mainstream" LED luminaire price points. The Valuelight brand is quickly becoming the best-seller as it has knocked down the price barriers that until now prevented the widespread use of SSL for commercial, industrial and institutional applications.
The LEDine BCLED outdoor luminaire brings immediate benefits of well designed, well performing, reliable outdoor Solid State Lighting to municipalities, utilities and commercial businesses who can now easily embrace the maintenance savings, longevity and energy efficiency, and other well known benefits of Solid State Lighting, without having to consider a shocking sticker price.
In most cases, utility rebates and federal stimulus funds will make 2012 retrofit projects highly cost effective with easy-to-approve, accelerated ROIs, payback returns on the investment and the most of all, the elimination of expensive maintenance of old outdated street lights that no longer can be ignored.
Valuelight is the quality, performance and reliability leader of the commercial LED market. Valuelight's surprisingly affordable prices are not a one-time promotional offer or a customer acquisition incentive, but rather a result of substantially updated, cost reducing, passive heat dissipation designs of highest possible reliability as they contain no moving parts (that some competitors still use), combined with the latest LED light sources from tightly integrated supply chain partners, high efficiency optical systems and low loss, leading quality drivers and many other long-term value engineering efforts.
Driven by the most reliable drivers from Thomas Research Products, Valuelight LEDine outdoor luminaires are designed for L70 life to exceed 100000 hours. The recorded field failure rate on its entire base of LEDine luminaires installed since 2006 is less than 0.3%. Optional 20kV/10kA surge protection upgrade to ANSI/IEEE C62.41 Category C3 (combination wave) and B3 (Ring wave) is available for most demanding rural and industrial applications.
All Valuelight LEDine luminaires are made in Canada or assembled in New Jersey ISO certified facility to comply with A.R.R.A. funded project requirements.
Industry-exclusive ten year warranty demonstrates the confidence Valuelight has in the ability and the reliability of its LEDine line. At twice the industry standard for lifetime operating hours, this warranty also doubles the standard coverage terms for optimal performance over the extended lifetime of all Valuelight LEDine 100000 hours rated street lighting (roadway) luminaires, industrial high bays and select group of commercial recessed luminaires (downlights).
Exclusive specification of Valuelight LEDine luminaires for both indoor and outdoor have already brought over half a million square feet of TD Bank, Enbridge and other well known commercial facilities to meeting Silver Level LEED certification.
In business since 1995 Valuelight is a leading commercial lighting manufacturer with corporate headquarters, factory and distribution centre in Toronto, Canada. They also have an ISO certified assembly facility in Kinnelon, New York and a metal component factory in Shunde, China. Valuelight continues to change the world of lighting with the latest green technology, energy saving lighting and controls.
Contact
Alia Emami, National Sales Manager Phone: 1-800-49-LAMPS 1-416-497-8000 Fax: 1-800-243-9494 1-416-352-5322
E-mail:ing@valuelight.com
Web Site:www.valuelight.com