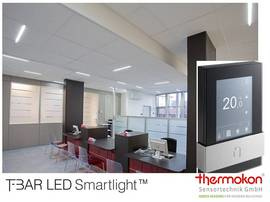 Date Announced: 26 Mar 2012
The German based company Thermakon will be hosting JLC-TECH Lighting's product T-BAR LED Smartlight™ at their Light+Building booth this April 15 through 20th in Frankfurt, Germany. Booth Number 9.0 D50.
Thermokon is an innovator in the development of technology in the field of building automation. In our current times of climate changes, low resources and high energy costs, intelligent buildings are imperative. The demand for optimized climatic technologies increases every day. As a specialist for sensor solutions, Thermokon develops and produces high-end devices for sustainable and energy-efficient Green Buildings. At its 25th anniversary the sensor expert will present amazing solutions at the trade fair Light+Building 2012 from April 15 to 20 in Frankfurt, Germany.
A special sensor solution, the EasySens, will be highlighted by powering JLC-TECH Lighting's product the T-BAR LED Smartlight™. "Powering the T-BAR LED Smartlight™ with our EasySens system at Light+Building offers a great chance to show the public what's possible in the building automation industry today," stated Nico Gottardt, Product Management Director at Thermokon. "We can control highly energy efficient LED lighting wirelessly and void of any battery. That's exactly what Green Buildings are all about: smart, efficient and innovative!"
The T-BAR LED Smartlight™ is a new line of LED lights uniquely constructed in the shape of a standard cross T for drop ceilings. The patented heat dissipation system allows for the fixtures to utilize high powered LED to illuminate for up to 50,000 hours. The T-BAR LED Smartlight™ is powered with 24v DC, allowing it to interact perfectly with most devices that promote self-sustainable intelligent Green building constructions. Furthermore the modern sleek design of this LED lighting source allows them to be integrated directly into the grid of drop ceilings. Why use modern technology with old design concepts? T-BAR LED Smartlight™ is the new, innovative, reliable and cost-effective modern LED light solution to replace traditional lighting fixtures and supports Green Building concepts around the world.
"We are very pleased to have this opportunity to showcase our product the T-BAR LED Smartlight™ at Light+Building 2012 with such an esteemed colleague as Thermokon," states Mia Antonia, Marketing and Communications Manager for JLC-TECH Lighting. "This is a fantastic opportunity to show the potential of our product and how integrates with other innovative technologies, adding to the growing industry of smart buildings."
Come visit Thermokon and the T-BAR LED Smartlight™ at the Thermokon's main booth 9.0 D50 at Light+Building in Frankfurt from April 15-20, 2012. We hope to see you all there!
If you would like to learn more about the T-BAR LED Smartlight™ while visiting Light+Building, we invite you to make an appointment by contacting info@jlc-tech.com. Appointments available between April 15-17th.
Features & Benefits:
For more product details, please visit:
www.thermokon.de and www.tbarledsmartlight.com
Contact
JLC-Tech Lighting LLC - 370 Corporate Park, Pembroke, MA 02359 USA International Sales Department (USA)Tel/FAX: +1-781-585-6368
E-mail:info@jlc-tech.com
Web Site:www.tbarledsmartlight.com