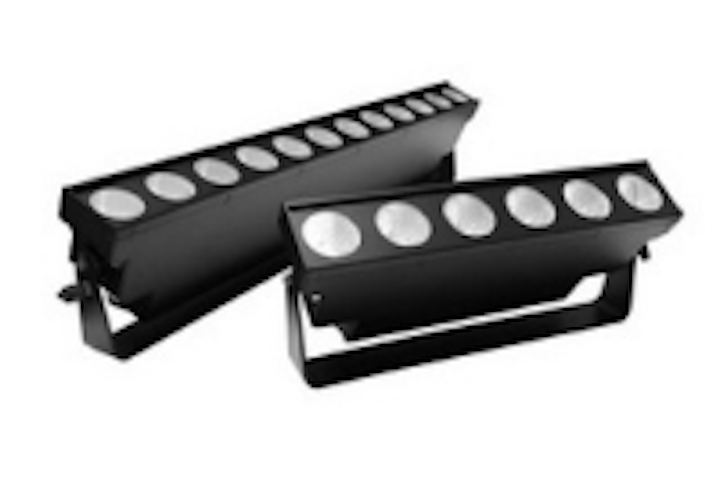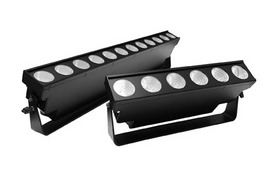 Date Announced: 30 Mar 2012
Innovative UK LED manufacturer i-Pix launches two new i-Line range products at Prolight+Sound in Frankfurt - a 600 mm / 2' six cell unit and a 1200 mm / 4' twelve cell.
These can be seen on the stand of i-Pix German distributor Focon Showtechnik in Hall 9 at Booth D51A where members of the i-Pix team will also be on hand giving demonstrations and answering queries.
UK and Ireland distributor and i-Pix global stockist, White Light will also show the full range of products on their Booth A61, also in Hall 9.
This latest technology from i-Pix builds on the success of the renowned BB range. As is characteristic of all i-Pix products, the i-Lines are incredibly bright for their size, offering a beautifully smooth output.
Each fixture has a custom 40 Watt RGB and daylight white light engine which is coupled to an 8 degree homogenised optic.
Together, these combine to provide a very flat and even field of light, making the fixtures suitable for close up illumination where a completely blended coloured lightsource is required.
With such a radically increased output, both fixtures can also be used as 'blinders' or as direct view lights, with retinal onslaught guaranteed and even more mind-blowing effects to be had by using the fantastic choice of internal strobe sequences!!
They are also ideal for pixel-mapping.
Furthermore, the internal chase patterns can be used to create truly funky, mesmeric kinetic colour animations which can work equally well on cyc or set washing of for eye or camera candy.
Various optical accessories are offered to stretch and narrow the beam or to mimic asymmetric dispersion, with a choice of optics for different height applications. With the blended lightsource, the beam pattern can be manipulated without any colour separation.
The i-Line range comes with a 'next generation' electronics architecture that delivers a superbly smooth dimmer response, with internal patterns, sequences, memory storage and playback as standard.
Like the original hugely popular i-Pix BB range, the i-Line units have a durable housing and are robustly built to deal with the demands of touring and rental / staging environments.
The clean design also ensures that they are equally suited for general washing applications in corporate event and presentation settings.
Customers can even order the fixtures with their own logos and idents laser-etched on the housing!
As well as this new branding service, various anodised and paint finishes are available, increasing the choice of where the i-Line range can be used.
Various accessories make for fast, straightforward rigging, and an innovative quick-response user interface plus RDM DMX as standard aids remote setup and addressing.
Says i-Pix founder Chris Ewington, "We are very proud of the greatly increased intensity of the i-Line range, demonstrating that year-on-year LED technology continues to improve. The BB range launched in 2007 saw the first entertainment sector products to use high powered light engines with homogenised optics. Four years later, the new i-Line products deliver over five times the original output.
"Whilst this output was impressive back in 2007, the i-Line, the new i-Pix M25 Pixel Matrix and the Mk II Satellite all offer users more unique creative potential with numerous improvements".
About i-Pix
i-Pix is an independent company based near Manchester, UK, founded six years ago by lighting designers with an eye for quality. Our purpose built R 'n' D and production facility is tailored to suit our clients' needs for well-engineered and robustly built products, designed to withstand the rigours of touring worldwide for many years.
i-Pix has an innovative track record of industry 'firsts' including the introduction of high powered light engines and homogenised optics. We provide energy conscious lighting designers with dynamic lighting tools that consume less energy and offer a viable alternative to more power hungry devices.
About White Light
With over 40 years experience in lighting technology, London, UK based White Light provides a global stockholding of the entire i-Pix range. Their locality, expertise and dedicated customer support ensures that the international distributors handling the i-Pix brand have stock available to meet all project deadlines. An experienced sales team provides full support in the UK and Ireland.
Contact
Louise Stickland +44 (0)7831 329888 +44 (0)1865 202679
E-mail:louise@loosplat.com
Web Site:www.i-pix.uk.com