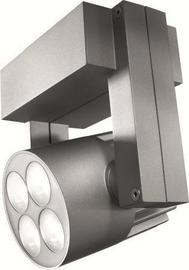 Date Announced: 19 Mar 2012
The brand new LED spotlight family Axxenta from LITE-LICHT, which is one of the first products developed together with ZETT OPTICS, has been awarded the "red dot award: product design 2012".
Axxenta represents innovative and design-oriented accent lighting with the latest LED technology and the highest power efficiency. The spotlights, currently offered in two power and installation sizes, are perfectly designed to focus the view on essential items in a store, in showrooms, display windows or in Shop-in-Shop systems.
LITE-LICHT is the brand name for professional lighting solutions from ZETT LITE LIGHTING GmbH (ZLL). The brand has been recently upgraded with a comprehensive relaunch in order to make it more dynamic, innovative and clearly more attractive for customers.
ZLL manager Dr. Marcus Liehr explained, "A visible manifestation of the new appearance of LITE-LICHT in the market is the Axxenta spotlight family using the latest LED technology and equipped with a light engine from ZETT OPTICS. This clearly supports our desires to not merely visually but also technically animate the market relaunch." The model is characterised by a distinctive design which can be observed in its powerful dimensions and clear lines.
With the successful design and the stylistic elements of the Axxenta S, LITE-LICHT also convinced the international expert jury of the "red dot award: product design 2012". After several days undergoing an evaluation process the new spotlights received one of the coveted awards, given out by a jury of 30 specialists. The Axxenta design displays a contrast of forms, embodied in the dynamic suspension arc between the rectangular base and the round cylindrical shape of the spotlights with their rear cooling fins.
Axxenta has been consistently developed with the needs of shop lighting with LED light sources in mind. The name of the product describes the program followed: Through a specially developed maintenance-free reflecting lens system, the spotlights are optimised for efficient and clear accent lighting. "For LITE-LICHT it has paid to uncompromisingly continue the development of Axxenta spotlights until all power parameters have been perfectly balanced together. We have put special attention on the fact that not only the technology but above all the design is a persuasive aspect," Andreas Zilch, Sales and Marketing Manager of LITE-LICHT, happily remarked. The functionality is underscored by the spotlight's excellent ability to be rotated and turned in vertical and horizontal directions. The Axxenta family will be initially shown at the Light+Building trade fair in Frankfurt in Hall 4.2, D81.
Features and technology of the complete product family:
Spotlights for the integration of high power LED modules with a maintenance-free, energy efficient reflector lens system.
Enclosure of high grade, coated aluminium die casting
Horizontally rotatable 300°, vertically rotatable 340° using an innovative louvre system.
Visible passive cooling using innovative heat balancing
Homogeneous cone of light with a very high illumination level
Available with radiating characteristics of 12°, 24° and 40° with an integrated LED converter
Reflector lens technology high-gloss, irisation-free
Possible use of coloured front lens for individual colour rendering (e.g. fruit and cold-cuts)
Light is UVA and IR-free
Colour temperature : 3000 K (warm-white), 4000 K (neutral-white), 2700-6500 K (tuneable white)
Enclosure colours: soft silver, soft black, soft white in microstructure paint
Operating life : 50.000 h at 70% lighting current
Supply voltage: 220-240 V, 50-60 Hz
Wiring ready for connection
The red dot design award:
The red dot design award, originating in the 1950s, is issued for three disciplines. In the category "product design" manufacturers and creative individuals from the whole world submitted a total of 4515 designs in 2012. The internationally recognised seal of quality is awarded on July 2 during the traditional red dot gala. Afterwards Axxenta will be presented in a four week special exhibition in the red dot design museum in the former Essen Coal Tarif Union (Essener Zeche Zollverein). The red dot award has been established as one of the most coveted seals of quality for excellent design.
About ZETT LITE LIGHTING:
ZETT LITE LIGHTING GmbH (ZLL) offers with the decades-long established brands LITE-LICHT and StarLicht attractive lighting solutions for professional and private needs in the most diverse range of applications. ZLL relies on advanced technologies and dynamic growth. In reaching their targets the company is especially focussed on future-oriented LED technology with outstanding possibilities for sustainable energy and resource utilisation in meeting lighting solutions. ZLL based in Herzebrock-Clarholz in Westphalia is a member of the ZETT OPTICS Group in Braunschweig. With competence and a strong orientation towards the future, customer friendly concepts are designed, which are economically satisfying and long-lasting. More information at www.lite-licht.com.
Contact
Bruno Seifert (Seifert & Company Communications GbR)
E-mail:mail@seifertcompany.de
Web Site:www.lite-licht.com