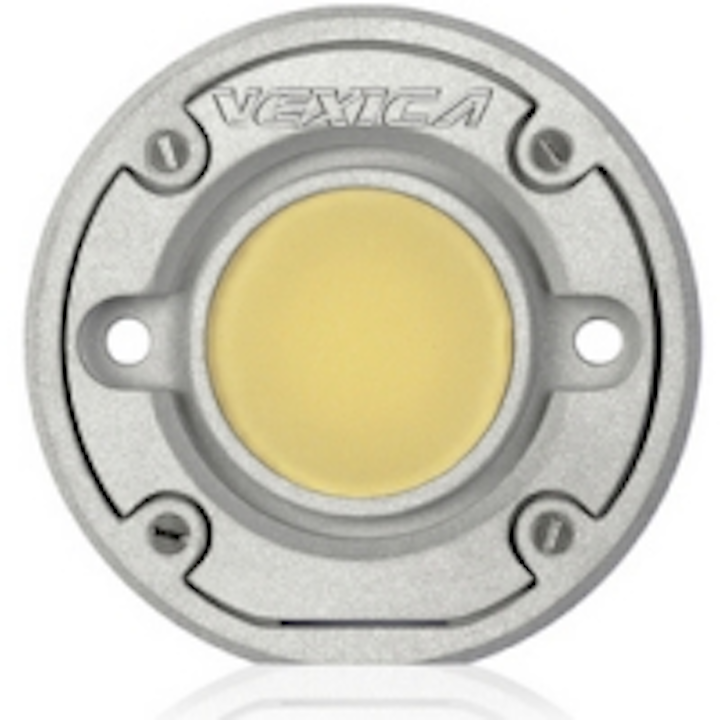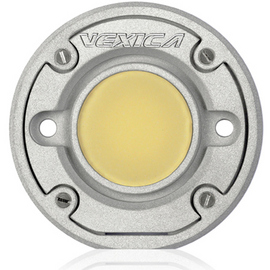 Date Announced: 16 Mar 2012
UK based LED specialists Vexica Technology have announced the launch of a new OEM LUMAERA LED module. The new LUMAERA-50-RP LED module is Vexica Technology's second launch in the last six months and is result of development due to customer demand for a 50mm industry standard module.
The new LUMAERA-50-RP module has the following key features:
• 50 mm diameter with 35 mm fixing centres
• 22.5 mm glass aperture
• Robust Die cast aluminum package
• 4-Way easy interconnect for remote LED drivers
• Single LED connectivity for external emergency driver option
• Remote Phosphor colour conversion for high CRI options
• Lumen packages of 600 Lm and 1200 Lm output
The new LUMAERA-50-RP OEM LED module offers manufacturers unparalleled ease of integration of LED technology. Offered in 600 and 1200 lumen packages, this new LED module has an interface for standard form factor reflectors allowing easy selection and changes of optical distribution patterns.
The new LUMAERA-50-RP module gives luminaire manufacturers versatile LED solutions without the associated research and development costs in a form factor that is rapidly becoming the industry standard for small led light engines.
High CRI options are available providing a colour rendering index over 95 achieved via Vexica's proprietary mixing chamber and Intematix XT remote phosphor technology. Vexica have integrated the very latest efficient Royal blue LED source and thermal design specifically tuned for use with remote phosphor systems.
In addition to this a range of local phosphor versions are due to be launched soon offering between 2000 and 5000 lumens packages in Q2 2012.
Vexica Technology is also offering an OEM heat sink for the newly launched LUMAERA module with details to follow shortly.
Vexica will be demonstrating our module capabilities at the Light & Building trade show in Frankfurt, Germany, April 15th – 20th 2012.
To view visit the Intematix and Cerflex booths in Hall 4, stands A86 & E19a.
Contact
+44 (0) 113 2434813
E-mail:sales@vexica.com
Web Site:www.vexica.com