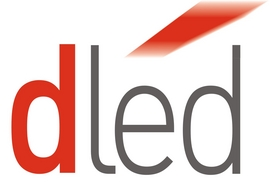 Date Announced: 29 Mar 2012
d-led, regarded as a top design, development and manufacturing company, whose products can be seen lighting up high profile installations around the world (including bridges, museums, academic institutions, retail chains, façades, sea walls, TV studios, and nightclubs), today announced its appointment of ECOLED (Cadisch GIGB Ltd.) as its UK distributor.
Under the new agreement ECOLED will distribute d-led's innovatively-engineered lighting portfolio throughout the UK and will provide full design and technical support across the entire range. Apart from design excellence, d-led uses only the highest quality materials and components such as Carclo Lenses, high-grade MIL spec anodized aluminium, V0 UV protected optic grade polycarbonate, high pressure pure aluminium Die-Cast and CreePhilips Lumileds Luxeon LEDs.
d-led's cutting-edge electronic controllers and drivers combined with the ground breaking new LOOX™ luminaires afford spectacular light distribution and achieve high outputs in low-profile and cost-effective products. d-led's systems feature active thermal protection management, user-friendly 'plug and play', flicker-free dimming and DMX512 communication, making them the perfect choice for architectural and media applications.
"d-led is renowned for its beautifully engineered, top quality products that encompass state-of-the-art technology, because their R&D team is quick to react to new developments and adopts new technologies", states Ian Bibby, Managing Director of ECOLED."We are excited about the possibilities these new products offer design engineers and architects, enabling ECOLED to remain true to its promise of offering leading-edge products to its dealers and end-users." Ian further stated that "ECOLED looks forward to a prosperous relationship and ongoing LED product development work via its new partnership with d-led."
"d-led is delighted to partner with ECOLED." declared Rami Redler, Managing Director of d-led. "d-led fits very nicely with their current offering, and will create demand from both existing and new customers and applications, which we are ready to meet. We never stop innovating to ensure we stay at the forefront of engineered LED fixtures. We specifically chose ecoLED. to represent us because of their focus on marketing only top quality products and their outstanding customer service."
About ECOLED
ECOLED (Cadisch GIGB Ltd) based in North London, England, specializes in LED lighting design and product development. Together with d-led's new lines, ECOLED is expanding its product base of excellently designed LED fixtures for the specification business, in several countries worldwide, as well as in the UK. www.ecoledlight.co.uk
Contact
Lesley Anne Rubenstein-Pessok Marketing & Sales d-led UK Email: office@d-led.co.uk Web Site: www.d-led.net
E-mail:info@d-led.net
Web Site:www.d-led.net