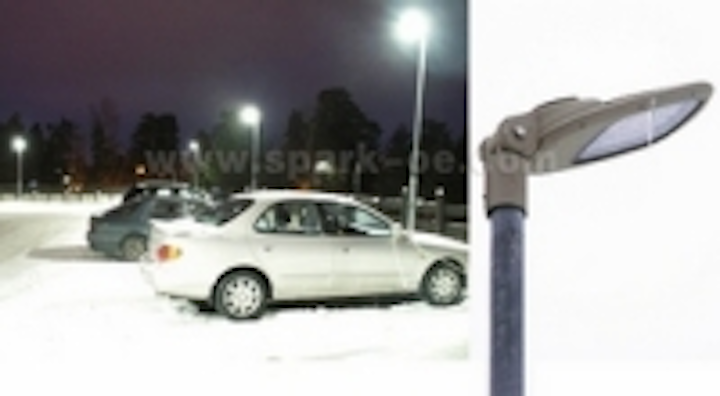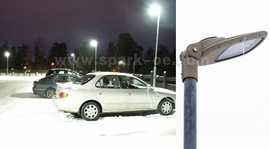 Date Announced: 15 Mar 2012
Here is the project carried by our Swedish customer, this project located in housing association parking space outside of Stockholm.
We use spark SPL-M40 in this parking area, customer loves the design our mini street light very much, because it can mount directly in the pole without pole arm, the base is adjustable from 0-90 degree.
Because of high latitude in Sweden, so it is very cold in winter and often snows. It will become a kingdom of snow and ice in winter. Ice skating, alpine skiing and other snow ice related projects are people dedicated activities.
Cold areas in lower temperature and temperature difference, the sudden cold and hot shock and long-term low temperature environment required more strict quality requirements for the devices. Prevented the invalid of led device from the cold and hot shock and temperature changing, provided reliable protection for the led driver working in the low temperature.
Although its unusually cold in Stockholm this year, Spark led street light perform perfect. See from the photo you will find the parking lot is as bright as the daytime. It is proved that even if it under the 35°C, the Spark led street light works well. No matter what the weather is, the Spark led street light can offer the comfortable and efficient light for both people and vehicles.
Using led lights, saving the earth, let us do it together.
Spark LED Street Light advantages:
1. More than 70% energy saving, UL/CE/RoHS certification.
2. Original Cree LED or Philips Lumileds LED used.
3. Light control and time-phase dimming, saving further energy.
4. High quality power supply (NS semiconductor and Japan Rubycon capacitor), reliable and stable; automatically reduce current against overheating working temperature.
5. Unique optical design & rectangular beam, suitable for roadway illumination.
6. Intelligent remote controlled and working status monitored by PLC and GPRS.
7. Lamp holder adjustable from 0-90°.
8. Special modular design for the LENS (independent modules) and isolated power supply, easy for maintenance.
Contact
Keziah Song General Manager Tel: (86 755) 8390 4366 Fax: (86 755) 8390 4766
E-mail:sales@spark-oe.com
Web Site:www.spark-oe.com