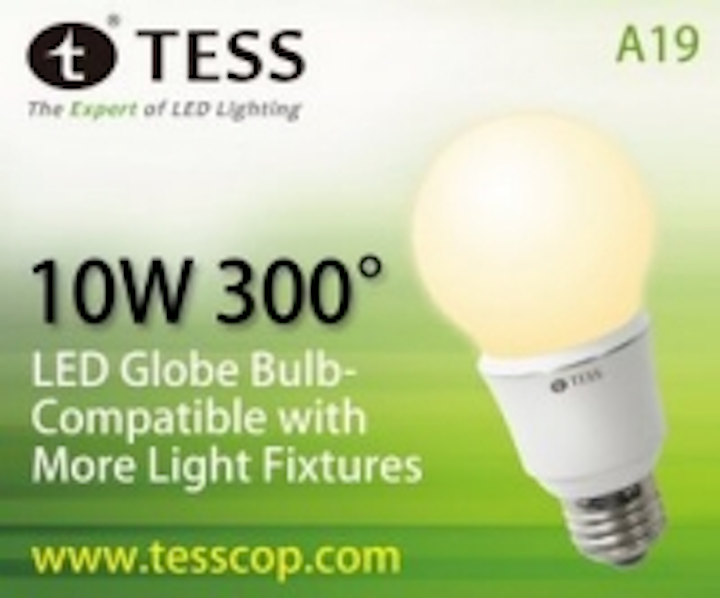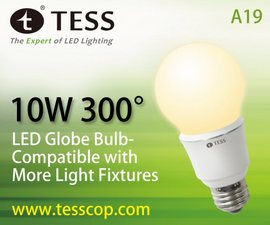 Date Announced: 07 Mar 2012
With pragmatic attitude, TESS has an insight into the market trend and customer needs to develop the leading market and innovative saving energy product, now announces the 10W 810lumen Hi-efficiency Globe Dimmable LED Bulb.
This 10W 810lm LED bulb is equivalent to about 60W incandescent lamp by following the LM79, high lumen output and presents a superior luminous efficiency of 81lm/W.The dimmable product feature make it apply in assorted scenario .
This LED bulb is 300° beam angle with A19 type size and available for cool and warm white .The lumen output of warm white is 810lm, the same as cool white. This excellent product feature is the highest lumen output dimmable LED bulb on the market. With the unique heat dissipating technology and wide beam angles, it is more applicable to the light fixtures
Compared the incandescent lamp, it could save energy about 80%.the major material of bulb is PC and aluminum, unbreakable and nontoxic. This extraordinary product design is extremely to meet the request for environment protection and safe use. Those events show the great ambition of TESS in technology and application.
Specification:
Product No: NO. X-6A001M-G / X-6A001W-G
Voltage Range: AC100 - 120V or AC220 - 240V ± 10%
Frequency Range: 50Hz / 60Hz
Power Consumption: 10W ± 10%
Lighting: Cool White / Warm White
Color Temperature: 5500°K ± 10% 3000°K ± 10%
Lumen Output (lm): 810lm ± 10%
Color Rendering: Index 70 (Typical)
LED Lifetime: > 40,000 hours (*1)
Beam Angle: 300°
Operating Temperature: - 20℃ ~ + 40℃
Operating Humidity: 20% ~ 90% RH Non-condensing
Storage Temperature: - 30℃ ~ + 80℃
Storage Humidity: 10% ~ 95% RH
Fixture Material: Aluminum / PC
Base: E26, E27 (AC100V ~ 120V) or E27, B22D (AC220V ~ 240V)
Dimensions: Approx. 60mm(D) × 125mm(H)
Weight: 270g
Regulation: RoHS、PSE, UL, FCC, CE (Under application)
*1:40,000 hours is a designed LED life, the Light Decay to 70%.
*2:Specifications are subject to change without notice. All rights reserved.
*3:Figures base on the test result of TESS lighting laboratory
Contact
Top Energy Saving System Corp.(TESS) Ms. Zoe Jao Tel: 886-2-22997688 ext. 122 Fax: 886-2-22997568
E-mail:zoe.jao@tesscop.com
Web Site:www.tesscop.com