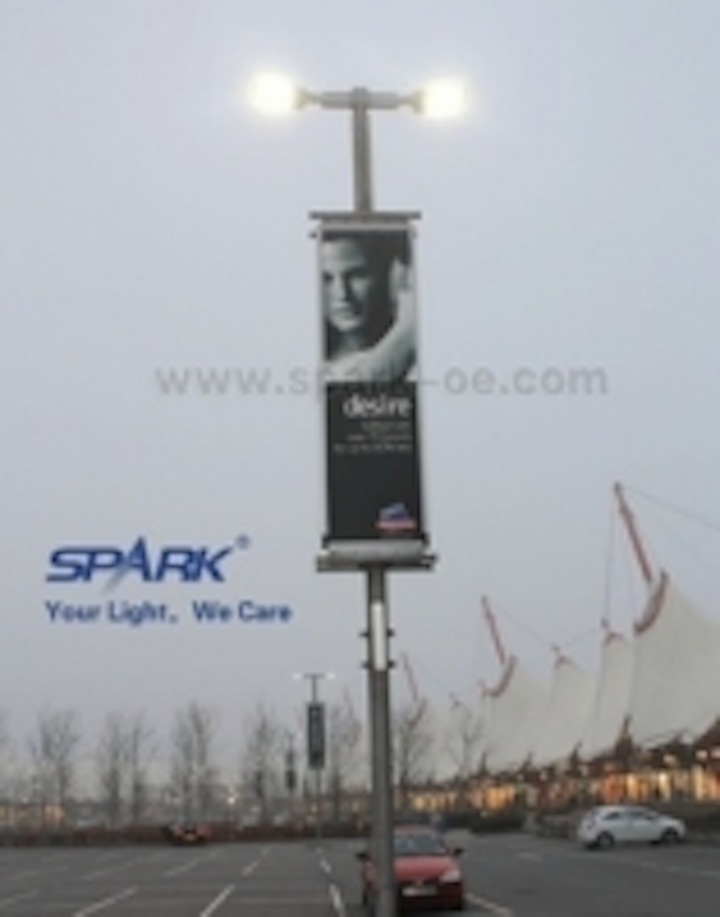 Date Announced: 21 Mar 2012
Spark SPL-96 LED street light installed in Car Park, UK. Two pcs on one pole. Strive to greatly reduce the energy consumption of traditional lighting systems, using high-quality white LED lighting to meet the horizontal illuminance and vertical illuminance uniformity in the view, provide the best visual experience for pedestrians, and vehicles. Customer very satisfied with the light effect.
Spark LED street lamp can be adapted to a variety of outdoor harsh environments and outdoor lighting requirements, and provide more power, higher brightness, higher color rendering lighting in foggy, rainy days and other special circumstances. Our LED street lamp maximum power reach up to 340W, can provide adequate and uniform illumination for large outdoor car park.
LED street lamp adapts new type optical lens and the unique innovative integrated modular design and intelligent control systems. LED street lamp uses power line carrier chip technology, the communication protocol is normative and efficient, can realize single-lamp control and management, remote centralized monitoring, in the true sense of the things internet street lamps. Set time control, light control, temperature control, adjustable lamp angle of a variety of intelligent features in one, is the most intelligent LED lighting products.
Spark LED street lamp can directly replace the traditional high color rendering metal halide lighting products. Instant start, no flicker, no adverse glare, wide operating voltage range; with overvoltage, under voltage protection function, safe and reliable, long life, set high efficiency, low maintenance cost, low operating costs, a number of advantages in a body.
No additional wiring in the implementation of the renovation project, simple installation, easy maintenance, functional, stable and reliable communication. Automatic inspections, fault alarm functions can effectively shorten the response processing time to achieve unattended. Your light, we care.
Contact
Keziah Song General Manager Tel: (86 755) 8390 4366 Fax: (86 755) 8390 4766
E-mail:sales@spark-oe.com
Web Site:www.spark-oe.com