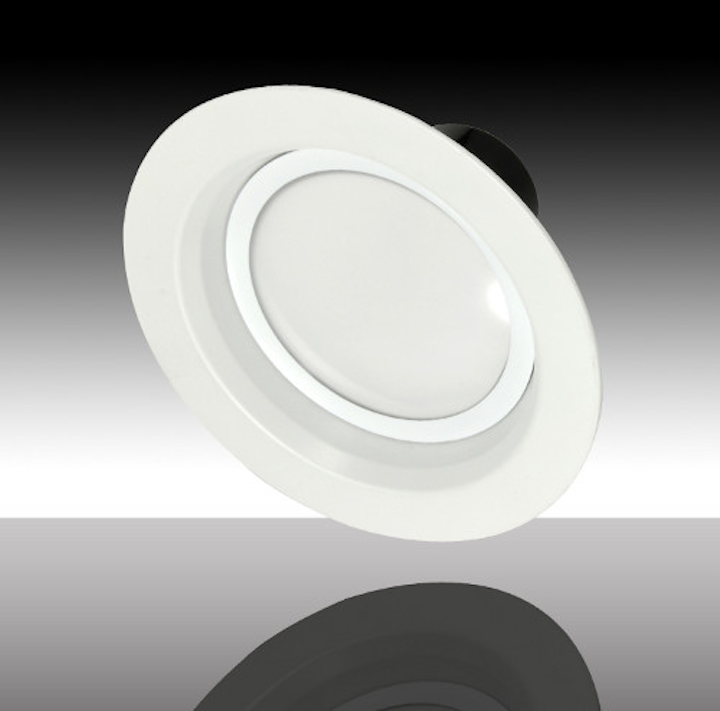 MaxLite's introduces ENERGY STAR qualified Six-Inch Residential Downlight Retrofits that deliver high performance
MaxLite offers economical lighting solutions for high-lumen residential projects and other applications
West Caldwell, New Jersey -- Offering excellent lumen-per-dollar value in recessed downlights, MaxLite® introduces ENERGY STAR® qualified damp-listed, six-inch LED Residential Downlight Retrofits for robust illumination in baths, covered porches, foyers and other high-ceiling applications. Designed as energy-efficient replacements for 75- and 120-watt incandescent fixtures, the downlights are available in 12- and 19-watts, respectively, and deliver up to 1,200 lumens. These retrofits can be purchased with rebates of up to $60 from utilities nationwide, with minimum wattage reductions.
"Our new residential downlight retrofits provide economical and easy-to-install replacements for existing fixtures that provide consumers with more than 80 percent savings in energy," said MaxLite's Product Marketing Manager Ken Charton. "This expansion compliments MaxLite's growing line of LED downlight solutions, including LED commercial retrofits and complete fixtures."
Offered in a 2700K correlated color temperature (CCT), the six-inch downlights capture the warmth and ambiance of incandescents. The retrofits are dimmable down to 10 percent for additional energy savings, allowing customers to tailor the light output to their tastes.
Designed with a single-piece, die-cast aluminum heat sink attached to an integrated open trim in a white powder-coated finish, the retrofits are constructed with a high-efficacy LED array, and a high impact-resistant diffuser that delivers significant lumen transmission and uniform aperture luminance while concealing the LED light source. The driver features thermal protection technology that helps sustain cool operation and long lumen life.
The retrofits, which utilize torsion springs for easy installation in recessed cans, are supplied with an integral 120-volt power supply for optimal operation and are suitable for many commercial and institutional applications, including schools, retailers, hotels and restaurants.
View the data sheet at http://www.maxlite.com/datasheet/6-value-series-downlight.
About MaxLite
MaxLite has been committed to providing energy-efficient lighting products for the last 20-plus years, and was one of the first movers into LED technology in the industry. An ENERGY STAR® Partner of the Year, MaxLite established the MaxLED® brand, an extensive line of state-of-the-art indoor and outdoor lighting lamps and luminaires. Through MaxLite's innovative research and development capabilities in its California office and product assembly center in New Jersey, MaxLite continues to be at the forefront of energy-efficient technologies.
Contact:

MaxLite
+1-800-555-5629
E-mail:
Web site: