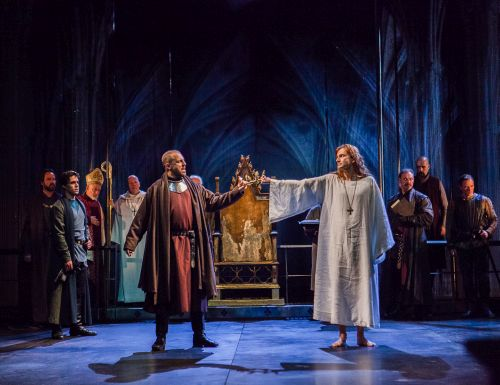 The theatrical grade dimming and incredible colour palette of Chroma-Q®'s Color Force 72™ premium performance LED battens were utilised by lighting designer Tim Mitchell to provide precise control, dramatic colour changes and subtle intensity for the Royal Shakespeare Company's (RSC) recent production of Richard II, which received rave reviews from UK critics.
The recent run of Shakespeare's Richard II, with David Tennant and directed by RSC's Artistic Director, Gregory Doran, kicked off at the RSC's main Royal Shakespeare Theatre in Stratford-upon-Avon, before moving to London's Barbican last December.
Tim, who serves as Associate Artist for the RSC as well as the Chichester Festival Theatre, specified seven Color Force 72 RGBA colour-mixing fixtures to light metal chain 'legs' rigged across the stage to a height of 8m. The battens were placed directly above the chains in a custom containment to shield the units from the audience.
The production's set designer, Stephen Brimson Lewis, explains: "My design for Richard II required many thousands of metres of fine metal chain, and this surface needs careful handling, as all the changes of mood and space were created through a precise lighting design and very little other scenery. The Color Force 72 LED battens gave us the precise control we needed to transform the chains with dramatic colour changes and subtle intensity. The design was a true collaboration between scenic and lighting design, made possible by the use of the Chroma-Q battens."
Tim worked with Stephen to specify the Color Force units after extensive testing of the colour, brightness and dimming with the chains staging at the RSC workshops, to prove he could blend the battens with conventional units and their colours. For Richard II, the battens were required to blend into the colour palette used in Tim's conventional lighting rig, which was mainly emitting a wide range of pale blues and warms through Lee colour correction filters.
"I recommend the Color Force battens all the time because of the incredible colour mixing - I don't think there is another batten on the market at the moment that has got the ability to do pastel colours as well as they do," says Tim. "The spread and amazing output from these relatively small battens works well – and of course they dim just beautifully."
The Color Force 72s offer theatrical grade dimming, emulating the extremely smooth dimming curve of tungsten fixtures, from completely off to completely on, and with no visible stepping or jerkiness.

"The battens were very consistent, colour wise, across our rig," continues Tim. "It's so simple -- I used a colour in a preset on one batten and then copied that to all other units in the rig and there you had it. The way the Color Forces produced the pastel tints by the warm LED was superb."
The Color Force range's LED selection, combined with Chroma-Q's advanced ColorSure™ technologies, provides meticulous colour consistency between fixtures in any situation. In addition, through batch control and careful thermal management, fixtures deliver the same colour results during any period of operation.
The fixtures' custom optical design also provides a smooth, even light output with outstanding colour blend across the spectrum - for equally impressive bold saturates, subtle pastels and a complete range of whites from 1,000K to 10,000K.

To arrange a Chroma-Q Color Force demo, call +44 (0)1494 446000, or for more information, visit www.chroma-q.com/performance.
We're now social. Follow us on Facebook - www.facebook.com/chromaq.lighting - for the latest Chroma-Q breaking news, user application stories, competitions & other fun stuff.
Photo Credits:
In foreground: L-R- Nigel Lindsay (Bolingbroke), David Tennant (Richard II).
In background: L-R- Simon Thorp (Surrey), Oliver Rix (Aumerle), Jim Hooper (Bishop of Carlisle), Keith Osborn (Abbot), Sean Chapman (Northumberland), Youssef Kerkour (Fitzwater), Edmund Wiseman (Harry Percy).
Photo by Kwame Lestrade.
Chroma-Q and all associated product names are recognised trademarks, for more information visit www.chroma-q.com/trademarks. The rights and ownership of all trademarks are recognised. The information contained herein is correct at the time of printing, we reserve the right to change the specification without notice. E&OE.
Chroma-Q® have been designing lighting equipment since the mid 1990s, when they established a reputation for
high product quality, innovation and reliability with hugely successful products such as the Original colour changer.
In 2004 Chroma-Q launched their first LED fixture, the Color Block DB4™ -- a product so popular that it's still selling today in a newer incarnation with upgraded technologies.
Since then, Chroma-Q have a gained a reputation for introducing award-winning, premium LED lighting solutions which deliver the highest performance levels required by today's most demanding applications - including concerts & theatre shows, film & TV broadcasts, retail, leisure & museum installations, exhibitions & corporate hospitality events.
Chroma-Q have an equally impressive track record developing a range of lighting changers, effects, gobo rotators, and various control & data distribution products.

Contact:
Chroma-Q - distributor A.C. Entertainment Technologies Ltd.
+44-(0)1494-446000
E-mail:
Web site: