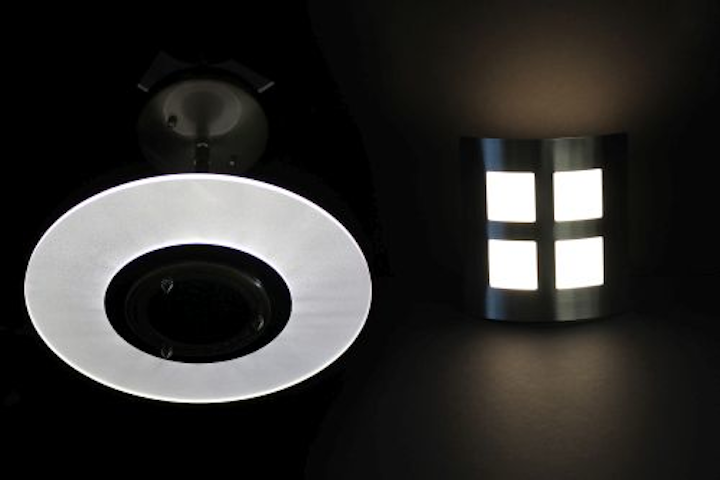 Santa Clara, CA -- Global Lighting Technologies (GLT) Inc. will be displaying a range of new lighting fixtures and assemblies utilizing its unique LED-based light guide technology at Strategies in Light USA, Feb. 25-27, 2014, Santa Clara Convention Center, in Booth 729.
GLT's LED-based edge lighting technology focuses the light of LEDs placed along one or more edges of an ultra-thin light guide to extract light precisely where needed, providing bright, uniform light in a thinner form factor with more efficient light extraction and fewer LEDs.
On display will be fixtures demonstrating light guides capable of producing distinct distributions of light from the top and bottom surface, enabling lighting fixtures to emit light upward and downward using a single set of LEDs and only one light guide.
Also on display will be GLT's curved light guide technology that permits more complex architectural fixture designs.
Applications for GLT light guides include general lighting; overhead fixtures; decorative sconces, chandeliers, and pendants; automotive interior dome lights; under-cabinet, splash and desk-task lighting; office, architectural and directional lighting; and egress, pathway and exit sign illumination.
GLT will be exhibiting custom assemblies, including a round 12" diameter pendant light with 60% of the light going downward and 40% going upward using one LED cluster and one light guide, and a wall sconce utilizing its curved light guide technology. GLT will also be featuring a custom outdoor wall lantern using extremely thin light guides that replace the incandescent lamps previously used. "This fixture, with the proper LEDs and drivers, could last 50,000 hours without needing to be replaced by using less power than the incandescent we replaced and would turn on instantly even at low temperatures, unlike CCFL bulbs," said Brett Shriver, Vice President, Sales & Marketing at GLT.
GLT's prototyping and tooling capabilities combined with its five high-volume manufacturing facilities in the Far East enable the company to deliver a superior illumination solution at a lower cost with faster turnaround.
For more information, visit Booth 729 at Strategies in Light and ask for Brett Shriver.
Contact:


Global Lighting Technologies (GLT), Inc.
+1-440-922-4584
E-mail:
Web site: