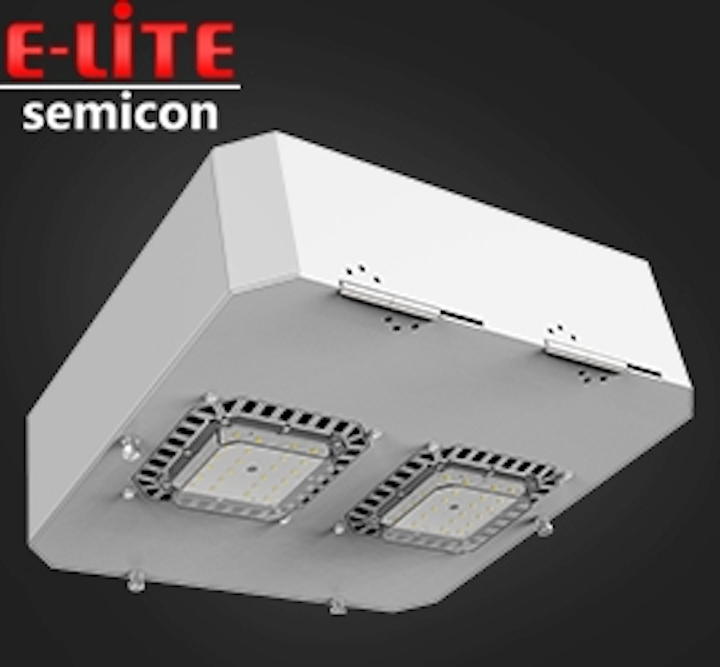 Chengdu, China -- E-Lite Semicon Co., Ltd., a leading innovator in high performance LED lighting technology for industrial applications, has announced the launch of its new range of modular based Smart™ series LED canopy light fixtures and retrofit kits for gas station installations.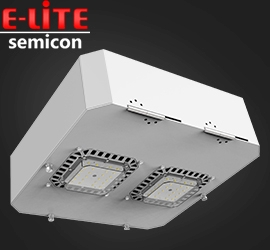 E-Lite introduces modular LED gas station canopy light and retrofit kit

Having been focusing on LED industrial lighting applications for 6 years, E-Lite continues to improve the product diligently; the Smart™ series flood light fixture represents new heights of China LED light R&D work. This brand new range of product features nearly everything the market may wish to have.

- The fixture is a direct replacement for gas station surface mount MH (metal halide ) light
- Modular based retrofit kit works perfectly with any sized and shape gas station surface mount or flush mount light fixture housing
- High performance LED light engine with Cree XT-E LED delivering 100 lumen per watt
- 100W and 150W LED replace the most commonly used traditional 250W and 400W light
- Patented thermal management allows -30°C to 55°C ambient working temperature
- Easiest installation and maintenance experiences guaranteed
- Easiest one-man operation
- Hinged LED engine holder
- Quick connector between light engine and driver
- IP65
- 5 years warranty, up to 100,000 hours long life
- Dimmability and intelligent control available upon request
- Certification: cULus wet location, DLC, CE, RoHS in process and ready by early March 2014

About E-Lite Semicon Inc.
Founded in 2008, E-Lite is a veteran solid-state lighting company focusing on high quality, ultra-bright LED lighting product for industrial applications ONLY. As a leading innovator in high performance LED lighting technology, the company has extensive technical expertise in industrial field applications, optical design, thermal management, materials compatibility and automated manufacturing processes.

E-Lite has a clear market strategy of building up worldwide distribution network only, and promises to protect the distributors' benefits.

Contact:

Lynn Yao (Ms.), Director, International Sales & Marketing - E-Lite Semiconductor, Inc.
+86-186-8135-4937
E-mail:

Web site: