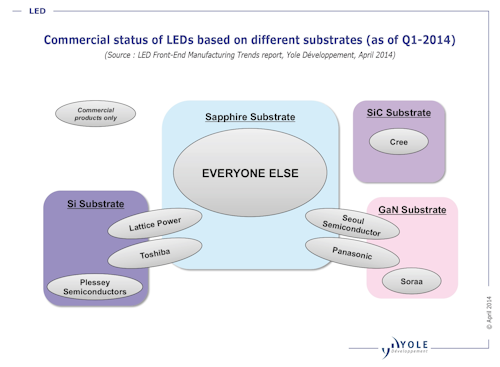 Lyon, France -- Yole Développement releases this week its report, LED Frond-End Manufacturing Trends. "New LED substrate is one of the key topics impacting the LED front-end industry", explains Pars Mukish, Technology & Market Analyst at Yole Développement (Yole). "Substrates are clearly shaping this industry with the start of the use of Silicon and bulk GaN as a potential replacement of sapphire", he adds.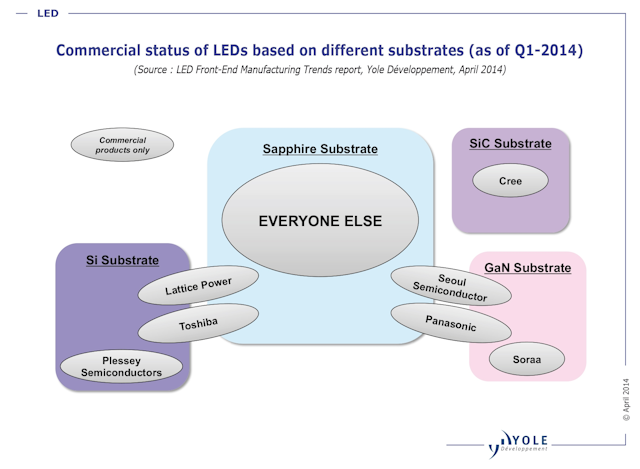 Yole reports replacements for sapphire substrates are growing trend in LED front-end manufacturing

Under this report, Yole's analyst provide a better understanding of the current process flow, process steps and technological trends in LED front-end manufacturing. Pars Mukish details the importance of cost reduction in this area as well. Moreover, he evaluates emerging substrates and related technologies including GaN-on-GaN LEDs and GaN-on-Si LEDs.

Under this report, Yole identified three main impacts:
- Increased demand for larger size sapphire wafers with big players, such as LG, Sharp or Osram moving to 6" wafers and Taiwanese players moving to 4" wafers.
- Increased demand for PSS that has now become mainstream in the industry (87% share as of Q1-2014), even if some questions remain concerning key patent holders' strategies.
- Development of GaN-on-Si and GaN-on-GaN LEDs with both technologies having begun mass production in some companies (such as Soraa for GaN, or Toshiba for Si).

"However, market penetration of these alternative substrates will be secondary to future improvements in terms of performance and cost", says Pars Mukish. Otherwise, GaN-on-Si and GaN-on-GaN LEDs will not be able to fully compete with sapphire-based LEDs.

The impact of the sapphire industry on the LED industry is likely to become bigger in the future because of the recent partnership between GTAT and Apple (Q4-2013) to set up a large sapphire manufacturing plant ($1 billion). The plant, having a rough capacity of 2 times the current qualified sapphire capacity, could totally modify the structure and evolution of the sapphire and LED industries in the next few years.

Yole Développement's report presents all recent technological trends of LED Front-End manufacturing, detailing evolutions at substrate, epitaxy, lithography, plasma etching and deposition, PVD and testing levels. More info on www.i-micronews.com, reports section.

About LED Front-end Manufacturing report
Author: Pars Mukish holds a master degree in Materials Science & Polymers and a master degree in Innovation & Technology Management (EM Lyon - France). He works at Yole Développement as Senior Market and Technology Analyst in the fields of LED, Lighting Technologies, Compound Semiconductors and OLEDs to carry out technical, economic and marketing analysis. Previously, he has worked as Marketing & Techno-Economic Analyst at the CEA (French Research Center).

Companies cited in the report (non-exhaustive list)
ACC Silicon, Accretech, Advanced Dicing Technology, Advanced System Technology (AST), Advatool Semiconductor, Aixtron, ALSI, Altatech (Soitec), AM Technology, AMEC, AND Corporation, Applied Materials, APT, Arima, ASM Pacific Technology, ASML, Astri, Aurotek, Autec, Azzurro, Bayer, Beijing Yuji, Bergquist, Bridgelux, Bruker, Canon, Cascade Microtech, China Electronics Technology Group Corporation (CETC), Chroma, Corial, Cree, Crystal Applied Technology (SAS), Crystal Optech, Crystalwise, Dai Nippon Kaken (DNK), Dai Nippon Screen Mfg, Daitron, Delphi Laser, Denka, Disco, Dow Corning, Dow Electronic Materials, Dynatex, Edison Opto, Epiluxy, Epistar, Eplustek, ESI, Eulitha, EV Group (EVG), Evatec, Everlight Electronics, Fittech, Formosa Epitaxy (Forepi), Four N4, Fraunhofer IZM, FSE Corporation (Fulintec), Galaxia, GE, GloAB, Hans Laser, Hansol Technics, Hauman, Heliodel, Hitachi Cable, Huga, Hybond, Iljin Display, IMEC, Intematix, InVacuo, Ismeca, JCT, JPSA, JT Corp, Jusung Engineering, K&S, KLA Tencor, Lattice Power, Laurier, Laytech, LG Innotek, Lightscape, Lightwave Photonic, Litec, Loomis, Luminus Devices, LWB, Maxis Co, Merk/Litec, Mitsubishi, Mitsubishi Diamond Industrial, Molecular Imprint, Momentive, Monocrystal, MPI, Nanoco, Nanometrics, Nanosys, Nichia, Nihon Gartner, Nikon, NN Crystal, North Microelectronics...

About Yole Développement
Founded in 1998, Yole Développement has grown to become a group of companies providing marketing, technology and strategy consulting, media in addition to corporate finance services. With a strong focus on emerging applications using silicon and/or micro manufacturing, Yole Développement group has expanded to include more than 50 collaborators worldwide covering MEMS, Compound Semiconductors, LED, Image Sensors, Optoelectronics, Microfluidics & Medical, Photovoltaics, Advanced Packaging, Manufacturing, Nanomaterials and Power Electronics.

The group supports industrial companies, investors and R&D organizations worldwide to help them understand markets and follow technology trends to develop their business.

Contact:

David Jourdan - Yole Développement
+33-472-83-01-90

E-mail:

Web site: