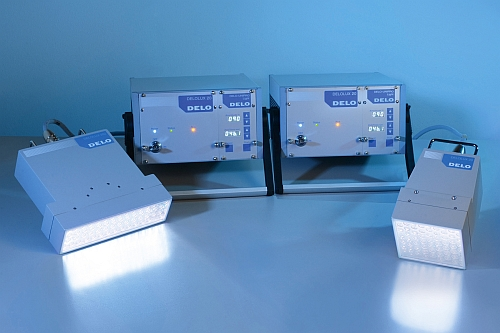 DELOLUX 20 and DELOLUX 202 evenly irradiate areas of any size and shape

Windach, Germany -- DELO, one of the world's leading manufacturers of industrial adhesives for automotive, consumer and industrial electronics applications, now offers two new LED area lamps with a shorter wavelength of 365 nm that allows for faster production and higher efficiency. The DELOLUX 20 and DELOLUX 202 can be arrayed seamlessly both longitudinal and latitudinal, evenly irradiating areas of nearly any size and shape.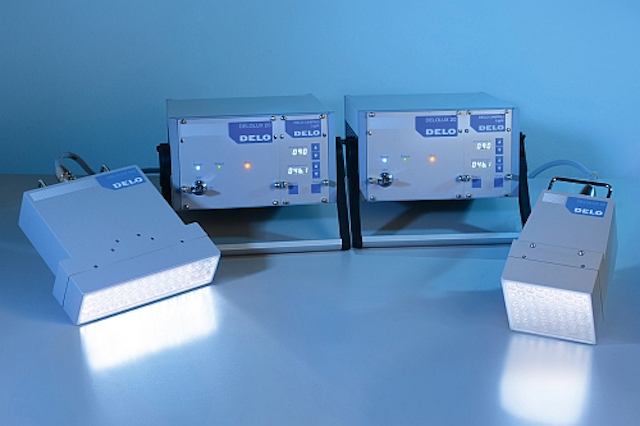 DELO LED lamps feature 365-nm wavelength for adhesive curing

Actively air-cooled, both the DELOLUX 20 and DELOLUX 202 provide fast and even curing of laminar adhesive areas within seconds. The compact LED heads on both models are ideal for use on fully automated systems and can be easily integrated into production lines. Each unit's ergonomically shaped round plug allows for fast installation of the lamp heads making it easy for the line operator to 'plug and produce'.

An innovative optical system enables both lamp models to evenly distribute emitted light at normal working distances of 0.2 to 1.18 in (5 to 30 mm).

The DELOLUX 20 is ideal for even irradiation of larger areas in applications like glass bonding, large area display bonding that requires even and low-tension curing as well as thick, laminar adhesive layers.
The DELOLUX 202 is perfect for even irradiation of long lines, in applications including bonding of small components in short cycle times, micro switches and mini loud speakers.

No warm up time is required when using the DELOLUX 20 or DELOLUX 202. Additionally, all light generation is directly in the lamp head, stable light power is held at a constant high level, continuous intensity control is offered via the power supply and no hazardous radiation is emitted in the UVB and UVC range.

DELO's new LED lamps are reliable and more energy efficient than traditional discharge lamps. The service life of an LED lamp can exceed 20,000 hours where a discharge lamp will only reach approximately 1,000 hours. Low energy consumption coupled with minimal maintenance help make the production process cost-efficient.

Technical Specifications
- Wavelength of 365 nm
- Lifespan of lamp exceeds 20,000 hours

Read our news: http://www.simongroup.com/PressRoom/feeds/DEO.xml
Watch the latest videos: https://www.youtube.com/user/DELOadhesives
Get our updates: https://www.linkedin.com/company/delo-industrial-adhesives

UPCOMING TRADESHOWS: SID, June 1-6, San Diego, Booth #1808; Sensors Expo, June 24-26, Rosemont, IL, Booth #522

ABOUT DELO:
DELO is one of the world's leading manufacturers of industrial adhesives used within the automotive, aviation, optoelectronics and industrial electronics industries. Headquartered in Windach, Germany, DELO has subsidiaries in the USA, China and Singapore. In fiscal year 2013-2014, DELO generated sales revenues of nearly $82 million.

Contact:

Matthias Stollberg - DELO Industrial Adhesives
+49-8193-9900-212

E-mail:

Web site: