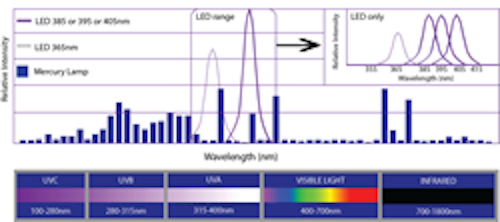 Wavelength Choices Offer Increased Flexibility for Industrial Applications

Hillsboro, OR -- Phoseon's UV LED light sources are available in 365, 385, 395 or 405nm wavelengths which offers additional flexibility for industrial curing applications. UV LEDs generate UV spectral output at several peak wavelengths in the UVA range. It is essential to match the UV LED wavelength with the catalyst absorption curve to maximize the curing reaction of inks, coatings and adhesives.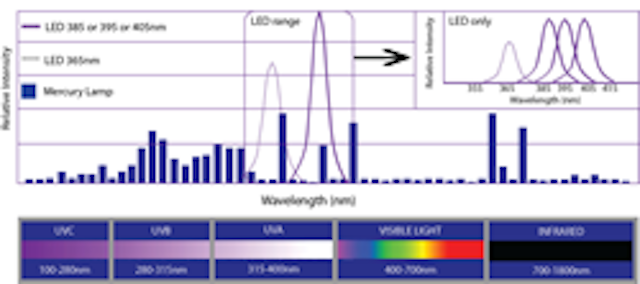 Phoseon Technology develops UV-LED light sources with multiple wavelength options

Combining the energy generated from today's high-power UV LED light sources and the right formulation of UV catalysts (such as Type 1 and Type 2 photoinitiators) it is possible to surpass current process capabilities for a variety of applications. Phoseon has worked with a large number of third party formulators to develop materials specifically formulated for UV LED technology.

While bringing the three-tiered benefits of UV LED curing (advanced capabilities, operating economics, and environmental advantages), Phoseon's products add additional capability with superior performance, integrated control, and outstanding reliability for customer's tough curing environments.

About Phoseon Technology
Phoseon Technology is the world leader in providing UV LED solutions for commercial and industrial applications. Phoseon's products deliver maximum UV energy, high performance, and real-world reliability for UV LED curing of inks, coatings and adhesives. The company provides worldwide sales and support capabilities and can be reached at http://www.phoseon.com.

Contact:

Stacy Hoge - Phoseon Technology
+1-503-619-2326

Web site: