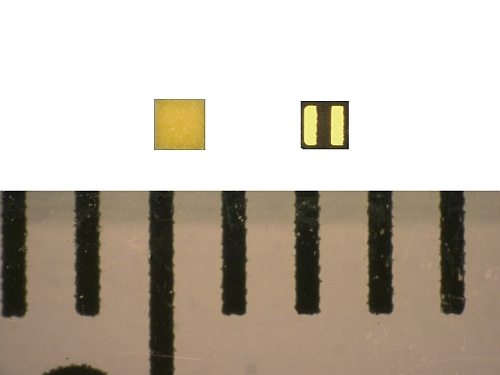 Light+Building 2014
TOKYO--Toshiba Corporation (TOKYO:6502) has announced the launch of ultra-small chip scale package (CSP) white LEDs for lighting applications that can reduce the mounting area by 90% compared to conventional 3.0 x 1.4 mm package products. [1] The new "TL1WK series" will start sample shipment from April.
Toshiba's ultrasmall CSP white LEDs achieve luminous efficacy of 130 lm/W
The new products utilize gallium nitride-on-silicon (GaN-on-Si) process technology and a new process technology that fabricates the elements of a packaged LED on an 8-inch silicon wafer. The LEDs are the industry's smallest in sub-watt class (1/4-1/2W) white LEDs[2], with a package size of just 0.65 x 0.65mm, but they achieve a luminous efficacy of 130lm/W[3] and superior heat dissipation. Using the new white LEDs makes it possible to achieve a narrow beam in small-size lighting equipments and can contribute to innovation in lighting design.
The new white LEDs will be showcased at "Light+Building", a trade fair for lighting and architecture in Frankfurt, Germany from March 30 to April 4.
Applications
Light sources for general lighting, including straight tube lights, light bulbs and ceiling lights
Main Specifications of the New Products

Series Name
TL1WK Series
Package Size
0.65 x 0.65 mm (Typ.)
Color Temperature
5000K
Color Rendering Index

(Ra)

80 (Min)
Forward Current
180mA (Max)
Luminous Efficacy
130lm/W (Typ.)
Others
Color variations under planning

(4000K, 3000K, 2700K)
Notes:
[1] Toshiba survey.
[2] As of March 27, 2014. Toshiba survey.
[3] During 60mA operation. Toshiba survey.
Follow this link for more on white LEDs.


Information in this document, including product prices and specifications, content of services and contact information, is current on the date of the announcement but is subject to change without prior notice.
About Toshiba
Toshiba is a world-leading diversified manufacturer, solutions provider and marketer of advanced electronic and electrical products and systems. Toshiba Group brings innovation and imagination to a wide range of businesses: digital products, including LCD TVs, notebook PCs, retail solutions and MFPs; electronic devices, including semiconductors, storage products and materials; industrial and social infrastructure systems, including power generation systems, smart community solutions, medical systems and escalators & elevators; and home appliances.
Toshiba was founded in 1875, and today operates a global network of more than 590 consolidated companies, with 206,000 employees worldwide and annual sales surpassing 5.8 trillion yen (US$61 billion). Visit Toshiba's web site at www.toshiba.co.jp/index.htm.
Contact:
Customer Inquiries: Optoelectronic Device Sales & Marketing Department
+81-3-3457-3431
E-mail:

semicon-NR-mailbox@ml.toshiba.co.jp
Web site: