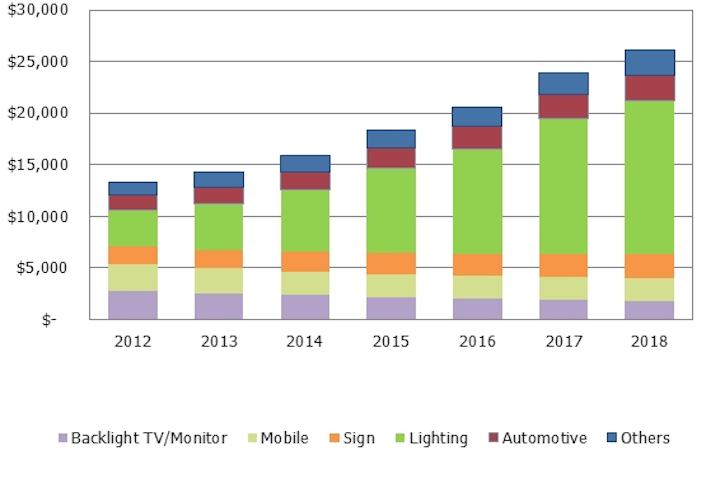 Mountain View, CA -- Strategies Unlimited has released its annual market research report, The Worldwide Market for LEDs: Market Review and Forecast 2014. This report foresees revenue growth of 12.9% from 2013 to 2018 for the total market for packaged LEDs, bolstered by 27% CAGR in LEDs in lighting applications.
The Worldwide Market for LEDs offers insightful analysis and a forecast through 2018 for packaged LEDs used in the following applications: display backlighting, mobile devices, automotive applications, signage, and general lighting. The report also provides a comprehensive supplier analysis that evaluates the distribution of revenues for such regions as Japan, South Korea, Taiwan, China, the United States, and Europe.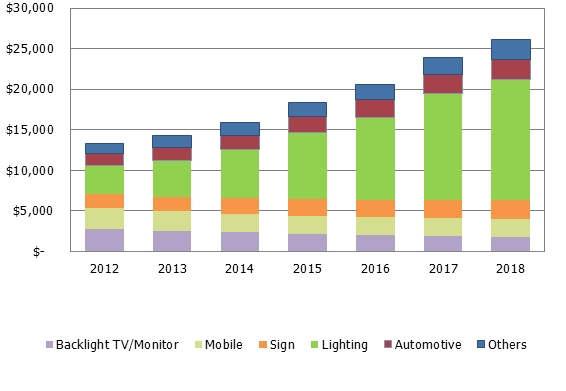 Strategies Unlimited forecasts glocal HB-LED market to exceed $26B by 2018
LED Market Revenue Bar, 2012-2018 ($M)
The global packaged LED industry grew from $1.2 billion in 2000 to $14.2 billion in 2013. Back in 2009, illumination accounted for $665 million in revenues and in 2013 the general lighting segment was worth $4.4 billion. According to Strategies Unlimited analyst Katya Evstratyeva, "We forecast the growth for LEDs in lighting to be 27% of CAGR from 2013 to 2018, driven mostly by an increased consumer confidence and continuously increasing sales of replacement lamps, downlights, industrial, commercial, and outdoor products."
The top 15 companies in the LED space account for about 81% of global revenues and the top 25 companies account for 93% of revenues. It is clear that quite a few manufacturers continue to struggle to find their identity in this fast-changing environment as the packaged LED industry is becoming more and more complex. As a result, we anticipate consolidation of the market in the coming years.
For additional in-depth market information, purchase The Worldwide Market for LEDs, which is available now.
About Strategies Unlimited
Strategies Unlimited, a division of PennWell Corporation, is the world leader in market research in LEDs and lighting, lasers and photonics devices, and beyond. With a unique blend of in-depth historical market knowledge and technological expertise, Strategies Unlimited produces highly detailed market reports, custom studies, and provides consulting services. Additionally, Strategies Unlimited presents industry events, including the Strategies in Light series and The LED Show, to large audiences worldwide. For additional information about Strategies Unlimited, visit www.strategies-u.com.
About PennWell Corporation
Founded in 1910 in Tulsa, Oklahoma, PennWell Corporation is a privately held and highly diversified business-to-business media and information company that provides quality content and integrated marketing solutions for the following industries: Oil and gas, electric power generation and delivery, hydropower, renewable energy, water and wastewater treatment, waste management, electronics, semiconductor manufacturing, optoelectronics, fiber-optics, aerospace and avionics, LEDs and lighting, fire and emergency services, public safety, and dental. PennWell publishes over 130 print and online magazines and newsletters, conducts 60 conferences and exhibitions on six continents, and has an extensive offering of books, maps, websites, research and database services. In addition to PennWell's headquarters in Tulsa, Oklahoma, the Company has major offices in Nashua, New Hampshire; London, England; Houston, Texas; San Diego and Mountain View, California; Fairlawn, New Jersey; Moscow, Russia; and Hong Kong, China. For additional information about PennWell Corporation, visit www.pennwell.com.
Contact:
Tim Carli, Sales Director - Strategies Unlimited
+1-650-94603163

E-mail:
Web site: