GL Spectis 5.0 provides for quicker and more convenient testing of LEDs and solid-state lighting equipment in the field and in production than bulky laboratory instruments.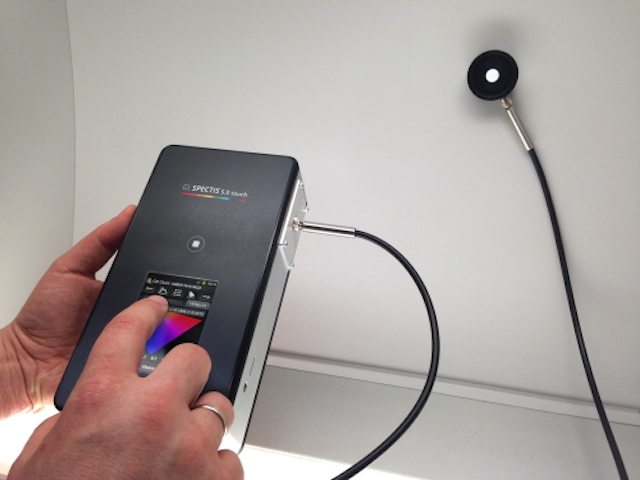 GL Optic's compact spectrometer offers lab-grade accuracy and resolution for testing LEDs and solid-state lighting

GL Optic, the manufacturer of spectrometers and light-measurement instruments, launched the GL Spectis 5.0 Touch, a compact spectrometer that can take laboratory-grade measurements of the intensity and colour of light.

Suitable for measuring the light output of individual LEDs and LED-based luminaires, as well as for photo-biological safety testing, the new instrument can replace bulky bench-top spectrometers with no loss of accuracy or resolution.

The Android-based GL Spectis 5.0 Touch measures just 111 mm x 210 mm x 58 mm and weighs only 1.5kg. It is equipped with a full-colour 240 x 320 touch-screen display, so the user can configure test set-ups and see measurement results without being connected to a PC. For PC-controlled operations using the optional GL SPECTRO SOFT software, the instrument can be connected wirelessly via its built-in Wi-Fi transceiver, or via its USB interface.

While the new instrument has a convenient small size, GL Optic has packed a laboratory instrument's capability inside the unit. It boasts a physical resolution of 0.5 nm and optical resolution of 2.5 nm over a broad spectral range of 200-1050 nm. Over this entire range, the instrument's spectral radiometric accuracy is rated to within +/-4%.

Colour measurements are also highly accurate: in the visible portion of the light spectrum, the uncertainty of colour co-ordinate (x, y) measurements is just 0.0015.

Measurements that may be viewed on the touch-screen display include full spectral profiles, CIE chromaticity charts and colour co-ordinates, CCT and CRI values and peak values of colour.

To provide for accurate measurements in the field, the GL Spectis 5.0 implements GL Optic's proprietary OSR technology for stray light immunity. Automatic baseline correction ensures high stability of measurement performance over the operating temperature range of 5-35°C.

This makes the spectrometer ideal for measurements to evaluate viewing conditions in accordance with ISO 3664, and for testing compliance with the eco-design requirements of EU standard 1194/2012.

The GL Spectis 5.0 is also specified for:
- measurements of LEDs in accordance with CIE 127:2007
- photo-biological safety testing of LED products in accordance with EN 62471
- measurements of solid-state lighting products in accordance with IES LM79-08

The instrument is supplied as standard with a cosine-corrected diffusor measurement head. This B class measurement head supports the proper measurement of light from a 180° (2Pi) hemisphere above the sensor, in accordance with Lambert's cosine law.

The instrument is also compatible with a wide range of optical accessories, including integrating spheres and optical probes. It detects which optical probe has been attached and automatically uses the correct calibration file in the software, so avoiding the risk of measurement errors when changing accessories.

Mikolaj Przybyla, brand director of GL Optic, said: "A number of advanced technologies have been combined in the GL Spectis 5.0 to produce a unique portable instrument that stands comparison, in terms of performance, with most bench-top spectrometers found in labs today. At last users can enjoy the convenience of using a compact instrument without having to compromise on measurement quality."

For more details, and for information on ways to buy the GL Spectis 5.0, go to http://www.gloptic.com/de/producten/gl-spectis-5-0-touch/.

About GL Optic
GL Optic is the brand name of Just Normlicht GmbH Germany, the world's leading supplier of standardised light solutions for the printing and graphic arts industries. For more than 30 years, Just has been developing innovative solutions which are of the highest quality in standard-light viewing conditions.

The spectral light measurement project was created at the end of 2009 by Michael Gall, the owner and CEO of Just Normlicht, in co-operation with Jan Lalek, a Polish physicist who had been involved in the creation of innovative LED tunable standard lighting systems, as well as the light quality assurance instruments installed at the Just spectral measurements laboratory. GL Optic creates solutions which are designed for manufacturers as well as scientists and experts in the lighting industry.
Contact:

GL Optic, a brand of JUST Normlicht GmbH
+49-(0)-7023/9504-20
E-mail:

Web site:

Submit new products, case studies/projects, and other press releases at http://www.ledsmagazine.com/content/leds/en/addcontent.html and http://www.ledsmagazine.com/content/leds/en/iif/add.html.