Phase Two of 5-Point-Program underway Impending Launch of Next Generation MOCVD Tool

Herzogenrath, Germany -- AIXTRON SE (ISIN DE000A0WMPJ6), a leading provider of deposition equipment to the semiconductor industry, announced revenues of EUR 46.2m for the second quarter of 2014, 5% higher sequentially (Q1/2014: EUR 43.9m) and 2% higher compared to one year ago (Q2/2013: EUR 45.3m). Q2/2014 EBIT at EUR -10.6m (Q2/2013; EUR -9.8m) and net result at EUR -11.6m (Q2/2013: EUR -11.8m) were both also broadly unchanged year-on-year.
Aixtron reports 2Q14 revenues and orders up, continues plan to launch next-gen MOCVD tool

AIXTRON's order intake in Q2/2014 improved by 25% year-on-year to EUR 38.2m (Q2/2013: EUR 30.5m). Sequentially, orders were up for the fifth consecutive quarter reflecting an improving market sentiment in the first half of 2014 (Q1/2014: EUR 37.7m).

The Company has successfully entered Phase Two of its 5-Point-Program, targeting to return to sustainable profitability. The focus is on lowering material costs, discretionary spending and the optimization of processes. At the same time, AIXTRON is currently preparing for the market launch of its next generation MOCVD production tool in the course of the second half of this year due to positive customer feedback.

Financial Highlights
Global demand for LEDs continues to increase, driven by the growing adoption of LEDs in the general lighting market. Utilization rates of most leading LED chip manufacturers also remain high. However, the increasingly positive market sentiment has not yet translated into substantially increased order levels for AIXTRON's LED manufacturing capacity. Nevertheless, AIXTRON generated increased revenues sequentially and year-on-year

The Company's gross profit at EUR 12.6m was 17% higher than in the previous quarter, mainly due to higher volumes and a more favorable product mix (Q1/2014: EUR 10.8m). It was up slightly year-on-year compared to EUR 12.3m in Q2/2013.

Operating expenses at EUR 23.2m were slightly up both sequentially and year-on-year (Q2/2013: EUR 22.0m; Q1/2014: EUR 21.7m) primarily due to increased R&D costs.

Consequently, EBIT for Q2/2014 was broadly unchanged sequentially and came in at EUR -10.6m (Q2/2013: EUR -9.8m; Q1/2014: EUR -10.9m). The net result for Q2/2014 amounted to EUR -11.6m (Q2/2013: -11.8m; Q1/2014: EUR -11.8m).

AIXTRON's Q2/2014 equipment order intake, at EUR 38.2m, showed a year-on-year increase of 25% from the EUR 30.5m in Q2/2013. Sequentially, the equipment order intake was also up (Q1/2014: EUR 37.7m), representing the fifth consecutive quarter of rising orders. The total equipment order backlog of EUR 66.4m as at June 30, 2014 was 14% higher than the 2014 opening backlog of EUR 58.1m.

Mainly due to the next generation MOCVD tool being in the qualification phase at key customers, Research and Development costs in Q2/2014 increased year-on-year by 22% to EUR 15.5m and 13% sequentially (Q2/2013: EUR 12.7m; Q1/2014: EUR 13.7m). At 34% of revenues, R&D spending remained at a relatively high level that underlines the important strategic significance of AIXTRON's internal R&D capabilities. Further progress was made in SG&A expenses. They were further reduced sequentially by 13% to EUR 7.9m in Q2/2014 (Q1/2014: EUR 9.1m).

Mainly due to the operating losses and a scheduled increase of inventories for new MOCVD tools and spares, free cash flow was down to EUR -17.5m in Q2/2014 (Q2/2013: EUR -3.7m; Q1/2014: -13.8m). Cash and cash equivalents (including bank deposits with a maturity of more than three months) as of June 30, 2014 amounted to EUR 275.6m (December 31, 2013: EUR 306.3m).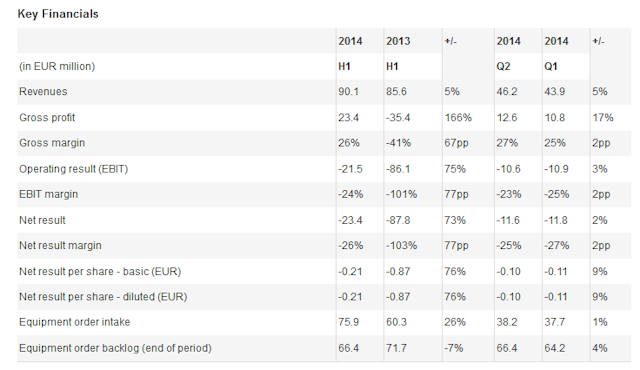 Management Review
Martin Goetzeler, President & Chief Executive Officer of AIXTRON SE, comments on the market environment and the development in the second quarter: "As evidenced by our 5th consecutive quarter of higher equipment orders, the demand for LEDs is growing partially due to a wide range of new LED lighting products being sold into the warehouses and stores, especially into regions such as China. A successful sell-out to consumers would represent the next stage of the transition away from traditional to LED lighting. Evidenced by positive feedback from our customers, we have made good progress in the qualification process and are preparing for the market launch of our new MOCVD tool generation later this year. Furthermore, we continue to push the development of our other technology areas. These include MOCVD for power electronic and logic applications, ALD for memory, OVPD for OLED applications and PECVD for carbon nanomaterials including graphene. Here we continue to see substantial market potential for AIXTRON.

In parallel, we have successfully entered phase two of our 5-Point-Program specifically addressing the reduction of material costs and discretionary spending as well as further process improvements preparing the ground to return to sustainable profitability. In combination with our continued dedication to R&D, we remain confident that we are on track to bring AIXTRON back on the path to success".

Guidance
Management reiterates its original guidance for fiscal year 2014 made at the end of February, for revenues to be in line with those of last year. Concurrently, the Company is not expected to be profitable on an EBIT basis over the course of this year. Nevertheless, Management continues to expect a year-on-year improvement in earnings due to progress made in cost savings and restructuring.

Financial Tables
The H1/2014 results presentation will be available at http://www.aixtron.com/en/investors/ir-presentation. The consolidated financial statements (statement of financial position, income statement, cash flow statement, statement of changes in equity) relating to this press release are available at http://www.aixtron.com/en/investors/financial-reports/ as part of AIXTRON's half year financial report for the first half of 2014.

Investor Conference Call
AIXTRON hosted a financial analyst and investor conference call on Tuesday, July 29, 2014, 3:00 p.m. CEST (6:00 a.m. PDT, 9:00 a.m. EDT) to review the first half 2014 results. A conference call audio replay or a transcript of the conference call is available at http://www.aixtron.com/en/investors/dates/conference-call/ following the conference call.
Contact:

AIXTRON SE
+49-241-8909-756
E-mail:

Web site:

Submit new products, case studies/projects, and other press releases at http://www.ledsmagazine.com/content/leds/en/addcontent.html and http://www.ledsmagazine.com/content/leds/en/iif/add.html.