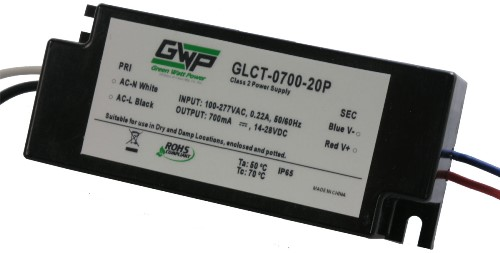 Green Watt Power, a division of Calex Mfg. Co., Inc., based in Concord California, announces the 20 Watt GLCT Series of constant current Triac/ELV dimmable LED Power Supplies. The Series consist of four models with output current ratings of 400, 500, 600 and 700mA. The current range with dimming is 10% to 100% of the full rated output. The output voltage range is 14 to 28V for all models. All models have a universal AC input. The GLCT Series provides a compact, cost effective solution for Traic/ELV dimmer compatible LED driver applications.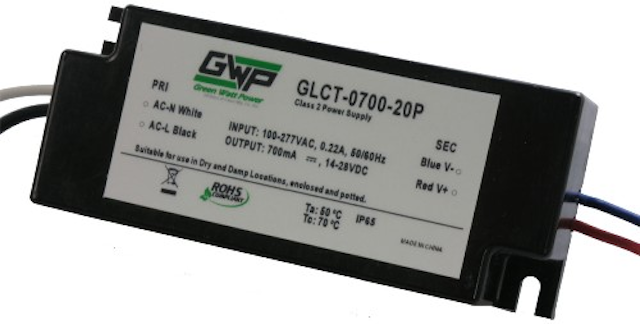 Green Watt Power releases 20W constant-current dimmable LED power supplies

All GLCT models measure 3.74" x 1.57" x 0.98"H. The unit weight is 0.157kg. All models are IP65 rated. The operating temperature range is -25 to +60C. The storage range is -40 to +85C. All models feature over voltage protection, short circuit protection, over current protection as well as over temperature protection. Power factor correction is 0.99. Total harmonic noise is less than 20%. Rise time is 150ms. All models are RoHS compliant and backed by Green Watt Power's Five Year Warranty.

Units are available from stock to 10 weeks. Contact Green Watt Power for pricing. For more information on the 20 Watt GLCT series, go to http://www.greenwattpower.com/pdf/glct20.pdf.

Contact:

Green Watt Power
+1-800-542-3355/925-687-4411

E-mail:

Web site:

www.greenwattpower.com

Submit new products, case studies/projects, and other press releases at http://www.ledsmagazine.com/content/leds/en/addcontent.html and http://www.ledsmagazine.com/content/leds/en/iif/add.html.