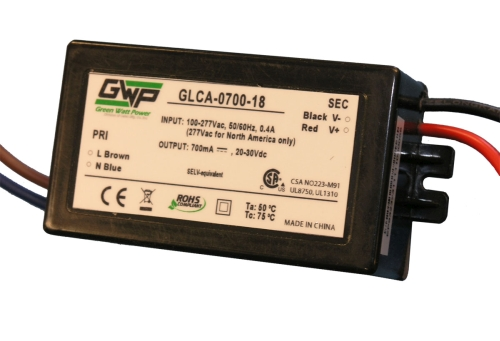 Green Watt Power, a division of Calex Mfg. Co., Inc., based in Concord California, announces the compact 18 Watt GLCA Series. These constant current LED power supplies offer a more compact solution over the standard Green Watt Power 18 Watt GLC Series which makes the GLCA ideal for space constrained applications. The GLCA has a universal input range of 100 to 305VAC and offers output currents of 350, 500 and 700mA. The voltage range for the 350mA model is 35 to 52V. The 500mA model has a 28 to 36V range and the 700mA offers a 18 to 30V range. All models are CSA/UL and CE approved and backed by Green Watt Power's Five Year Warranty.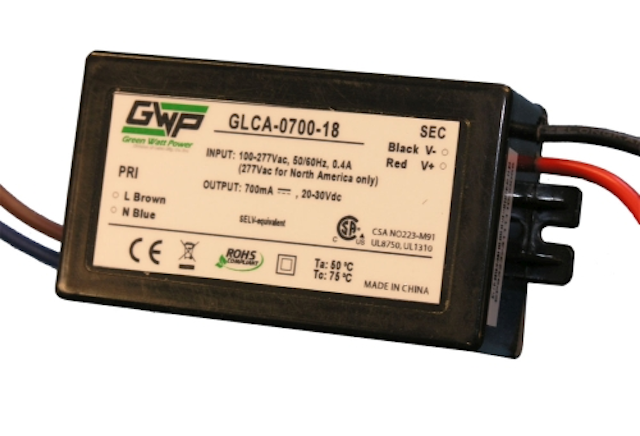 Green Watt Power's 18W LED power supply has 100-305 VAC universal input range

The dimensions of the GLCA are 3.43" x 1.65" x 1.08"H. The 3.43" dimension includes the mounting flanges. The GLCA is fully encapsulated with an IP67 rating. The unit weight is 0.18Kg. The operating temperature range is -20° to +60°C and the storage range is -40° to +85°C. All models are RoHS compliant.

The Power Factor Correction for the GLCA is 0.90. Noise and Ripple is 5% maximum. Total Harmonic Distortion is less than 20% for all models. Setup Time is 1.5s and Rise Time is 200ms. The Overshoot and Undershoot Response is +/-10%. Input current is 0.4A at 110VAC with a full load condition. All models are protected with Over Voltage Protection, Short Circuit Protection, Over Current Protection as well as Over Temperature Protection.

Units are available from stock to 12 weeks. Contact Green Watt Power for pricing. For more information on the 18 Watt GLCA series, go to http://www.greenwattpower.com/pdf/glca18.pdf. Calex's corporate headquarters are located at 2401 Stanwell Drive, Concord, CA 94520 USA.

Contact:

Green Watt Power
+1-800-542-3355/925-687-4411

E-mail:

Web site:

Submit new products, case studies/projects, and other press releases at http://www.ledsmagazine.com/content/leds/en/addcontent.html and http://www.ledsmagazine.com/content/leds/en/iif/add.html.