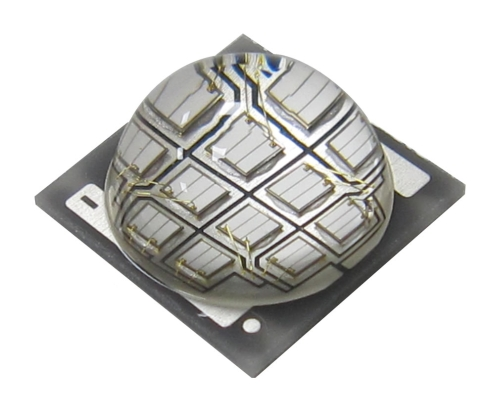 LED technology specialist introduces new high power LEDs for demanding industrial applications requiring UV technology
Intelligent LED Solutions launches 365-420-nm UV LEDs for industrial applications

UK LED specialist Intelligent LED Solutions (ILS) has announced the launch of a new range of high power UV LED's.

The UV power LED has been designed to have higher thermal endurance, ensuring better reliability at higher temperatures, and comes in a range of output powers, package formats and wavelength options ranging from 365nm to 420nm and radiometric power from 320 to 7000mW.

The high power UV LED range is suited to demanding industrial applications such as polymer curing, ink curing, counterfeit detection, aquarium lighting, medical and DNA sequencing, and features a vertical chip structure on a patented metal alloy substrate, offering advances in optical output and high thermal conductivity.

"UV LED technology is playing an increasing role in industrial design," said Adrian Amor, Director at ILS. "The new high power UV LED range pushes the boundaries of what is possible. The high power LED offers a more efficient and more robust solution for engineers working to develop demanding applications that require a UV light source."

Intelligent LED solutions is a specialist supplier of LED technology, offering a high level of technical skill, professionalism and commercial understanding to those industries that are or will be using highly efficient LEDs and LEDs of any type. Intelligent LED Solutions supply a wide range of European and overseas OEM manufacturers.

"For those exploring UV LED technology for the first time, our team at ILS are able to provide design support and prototyping within the European market place," said Adrian Amor. "We also have the capability to deliver production LED and assemblies to wherever in the world that the customer's manufacturing or assembly is being undertaken."

For those wishing to evaluate and prototype with the new high power UV LED range, star boards with wires, strips and component LEDs will be available through RS Components. For further information about ILS's range of visible and non-visible LED technologies please visit www.i-led.co.uk

About Intelligent LED Solutions
ILS is a division of Intelligent Group Solutions Ltd (IGS) a well established and respected industry leading display and opto-electronics solutions provider. Much of IGS' business comes from providing semi-custom or custom products both in component and sub-assembly form.

IGS is a privately owned company and the owners are fully involved in the running of the business. All the senior staff have been involved with the opto-electronics industry for at least 15 years and are dedicated to maintaining ILS is an innovative and highly successful operation.
Contact:

Adrian Amor, Director - Intelligent Group Solutions Ltd.
+44-(0)-1635-294600
E-mail:

Web site:

Submit new products, case studies/projects, and other press releases at http://www.ledsmagazine.com/content/leds/en/addcontent.html and http://www.ledsmagazine.com/content/leds/en/iif/add.html.