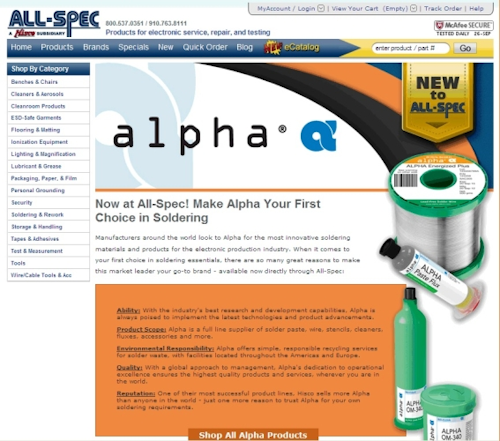 Somerset, NJ – Alpha, the world leader in the development and production of electronic assembly materials, announces their line of soldering products may now be purchased online through one of their stocking distributors, All-Spec.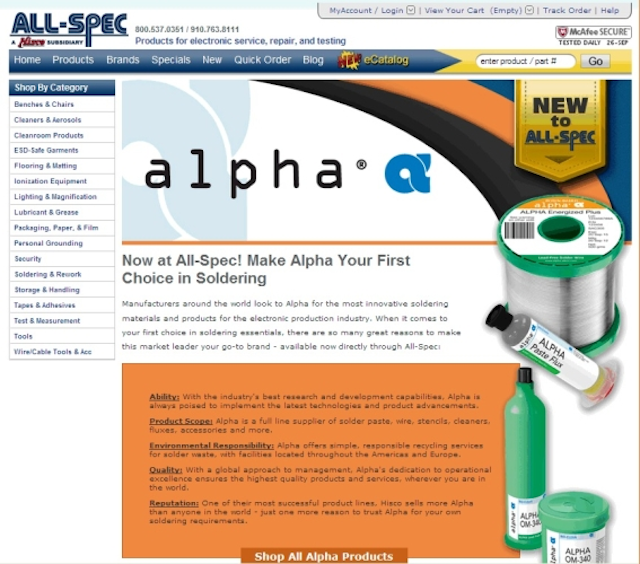 Alpha electronics soldering materials now available for online purchase through All-Spec

A subsidiary of HISCO, All-Spec's contemporary ecommerce website is an ideal place for prospective buyers to find Alpha's innovative soldering materials and products for the electronic production industry, such as solder wire and bar which is only available for eCommerce through All-Spec.

"We are pleased to have All-Spec offer Alpha's product line through their web-based store," said Michael Previti, Regional Marketing Manager for Alpha. "Their team worked very diligently to add our products to their electronic catalog and their efforts are evident when looking at the end result.

The online store allows you to shop by category, such as Soldering and Rework, making it easy for a prospective buyer to find the appropriate product solution in a user-friendly manner. "Alpha has long been a leader in soldering technology and All-Spec is excited to be able to offer customers the convenience of online ordering," said David Weitner, Vice President of eCommerce for Hisco. "Hisco's focus has always been on fast, friendly service, and All-Spec's partnership with Alpha is just another example of how we make the buying experience better for our customers."

"This online initiative is one example of how All-Spec always keeps their customer needs top-of-mind," said Previti. "Alpha sees great value in having customers access our products in a structured manner through the All-Spec site".

Alpha's products can be located on the All-Spec online store by visiting:
http://www.all-spec.com/start/alpha-solder.html?icn=oct14&ici=alpha_ctr.

For more information on other ALPHA® product offerings, technologies or solutions, visit www.alpha.alent.com.

About All-Spec
All-Spec, a subsidiary of HISCO, carries ESD-safe materials, electronic manufacturing tools, soldering stations and irons, as well as telecom, field service and test & measurement equipment. All-Spec Industries normally ships 97% of all in-house stock orders received each day. In some instances, the order will ship from the manufacturer or an off-site warehouse. For more information, visit www.all-spec.com.

About Alpha
Alpha, a business unit of Alent plc, is a global leader in the development, manufacturing and sales of innovative materials used in electronic assembly processes. With a unique worldwide presence of over 30 locations throughout the Americas, Europe and the Asia/Pacific region, Alpha supplies a full line of ALPHA® Solder Paste, Stencils, Squeegee Blades, Stencil & PCB Cleaners, Bar Solder, Cored Wire Solder, Wave Soldering Fluxes, SMD Adhesives and a line of ALPHA® Argomax® Ag sinter paste, and LED assembly products. Alpha's Advanced Materials unit is the leader in electronic polymers and solders materials for semiconductor packaging. Alpha also offers product technologies for the Photovoltaic market to help lower production costs and increase throughput and yield. Since its founding in 1872, Alpha has been committed to developing and manufacturing the highest quality soldering materials. That tradition continues today through its innovative products, including its line of environmentally friendly, lead-free electronic assembly products. For more information, visit www.alpha.alent.com.

ALPHA and Argomax are registered trademarks of Alpha Metals, Inc.
Contact:

Alpha - Laurie Kneller, Manager, Global Marketing Communications
+1-908-791-3045
E-mail:

Web site:

Submit new products, case studies/projects, and other press releases at http://www.ledsmagazine.com/content/leds/en/addcontent.html and http://www.ledsmagazine.com/content/leds/en/iif/add.html.