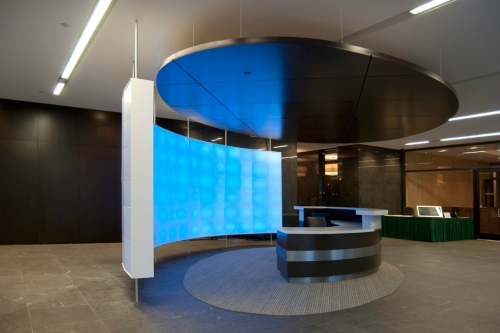 MINNEAPOLIS, MN - Seeyond® Architectural Solutions recently installed a tension-mounted wall in the reception area of a multi-tenant office property in Greenville, SC. The lighted wall is made of proprietary engineered cellular resin and features a Slant tessellation pattern along with pleated relief. The elegant lighted wall not only commands attention but also complements the other elements in the environment including the dramatically curved reception desk and ceiling feature.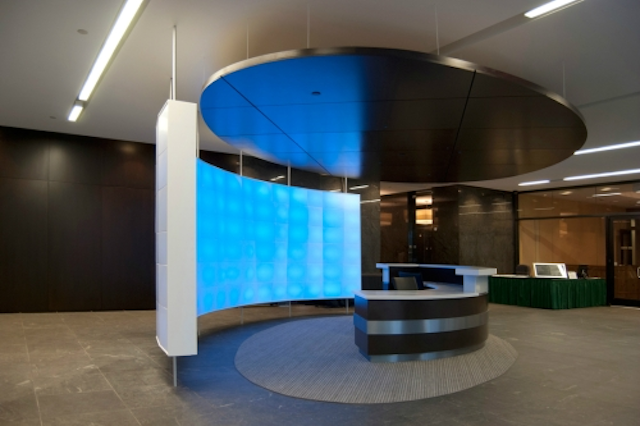 Seeyond installs suspended programmable LED-lit wall in commercial office space

This suspended lighted wall measures 7' high and 36' wide. It includes remote controlled programmable LED lighting in each module, making for a high-impact experience for tenants and guests entering the space. The tension mounting aspect of the wall design gives the space an open and airy feeling while delivering a sense of contemporary sophistication.

The turnkey Seeyond approach featured a highly efficient online design process and a clean and simple installation. Seeyond specialty features are designed to precisely fit any unique customer environment and final products are fabricated within a 1/16th inch specification.

About Seeyond
Seeyond® Architectural Solutions delivers a comprehensive approach that integrates the design, manufacturing and installation of architectural specialty features -- walls, wall facings, ceiling clouds, enclosures, columns, and transitions -- including office walls and partitions, mobile walls, lobby features, reception areas, work spaces, and media wall transitions. Their proprietary system provides total control of the outcome and an empowered sense of risk-free design freedom for commercial architects and designers.

Seeyond is driven by parametric-design software called the Tess™ Specification Tool, which is patent pending. The Seeyond solution proves to be an ideal approach for efficiently creating organic shape and complex form for self-structuring specialty features. Designers can access Tess through custom one-on-one online design sessions with Seeyond.

Seeyond offers two distinct paths to installing a specialty feature: Seeyond Select features mobile walls designed as a system. Each wall can be moved by anyone at anytime. At a moment's notice. Seeyond Design features walls, facings, clouds, enclosures, columns, and transitions, all designed to specification.

Seeyond Architectural Solutions was first introduced at NeoCon in 2011. At its launch, Seeyond won a Gold Award in the Best of NeoCon competition's Architectural Products category. Seeyond also won a prestigious Innovation Award in the same competition, which was sponsored by Contract magazine. In 2012, Seeyond took a Silver Award in the Architectural Products category in the Best of NeoCon competition. In 2013, Seeyond received a Gold Award for collaboration-space movable walls and a Silver Award for decorative lighting. In 2014, Seeyond received two Silver Awards in the Best of NeoCon competition: one for decorative lighting and one for signage and wayfinding. Seeyond also has been a finalist or honoree in the 2012, 2013 and 2014 Interior Design Best of Year Awards. In 2014, Seeyond received three Honoree awards in the first Interior Design HIP competition, which celebrates people and products in the commercial design industry.

Typical market segments for Seeyond include hospitality, office, academic, and retail environments. The average time from design through installation for custom features is two to three months. Since introduction, Seeyond has installed more than 100 unique specialty features throughout the U.S. Their pipeline continues to be filled with projects destined for well-known airports and offices, resorts and hospitals, stores and co-working spaces, restaurants and casinos.

Seeyond® Architectural Solutions is a member of the Liberty Diversified International (LDI) family of companies. Specifically, it resides within the LDI Spaces business group. LDI Spaces also includes Seeyond sister company Safco which operates in the contract-furniture industry. Privately held LDI is headquartered in the Minneapolis, Minnesota suburb of New Hope.

Video:
Contact:

Anne Berg - Seeyond
+1-763-542-3000
Web site:

Submit new products, case studies/projects, and other press releases at http://www.ledsmagazine.com/content/leds/en/addcontent.html and http://www.ledsmagazine.com/content/leds/en/iif/add.html.