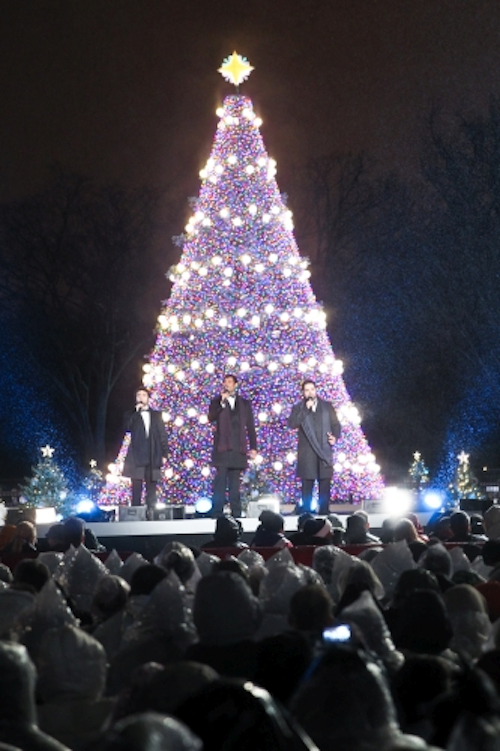 - New smart LED holiday lighting lets consumers program and control lighting from anywhere and customize color options

EAST CLEVELAND, Ohio -- On Dec. 4, the National Park Foundation, the official charity of America's national parks, the National Park Service, and GE Lighting unveiled this year's holiday LED lighting design for the National Christmas Tree at the 92nd annual National Christmas Tree Lighting ceremony at President's Park. With more than 60,000 holiday LED lights on the living Colorado blue spruce, it is one of the most notable holiday displays in the United States.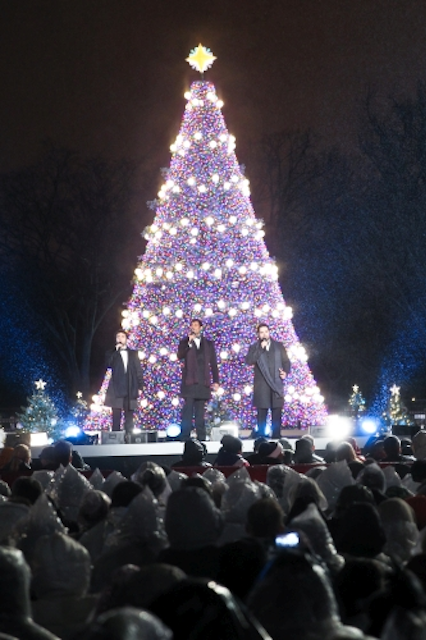 US National Christmas Tree gets smart, user-controlled LED lighting from GE Lighting in 2014
PHOTO: The National Christmas Tree will be lit by GE ENERGY STAR®-qualified LED holiday lights. Replicas of the National Christmas Tree will be on display at GE Lighting's headquarters in Ohio and at GE's Corporate Headquarters in Connecticut. Pictured here is last year's National Christmas Tree on display in President's Park in Washington D.C. Photo credit: Paul Morigi, 2013 National Christmas Tree Lighting

"Each strand of GE LED holiday lights consumes up to 80 percent less energy than incandescent holiday lights, but still provides the festive lighting consumers love," said Mary Beth Gotti, manager of the GE Lighting Institute and holiday lighting designer for the National Christmas Tree. "With GE LED holiday lights, consumers don't have to compromise; they can enjoy energy savings and the inviting glow they know and love."

Smart LED holiday lighting
For more than 100 years, GE Lighting has been a symbol of both tradition and innovation in holiday lighting, bringing advanced technology and the industry's highest standards to brighten festive decorations around the world. And this year, holiday lighting just got smarter – thanks to new GE LED innovations – including wirelessly controlled and color-changing LED holiday lighting.

While the National Christmas Tree has been all-LED for the past five years, it is expected that two out of every five holiday lighting strands sold this holiday season will be LED. As consumers begin their own holiday decorating, GE has brand-new products to help create the perfect holiday glow.

- iTwinkle: Have fun with holiday lighting with GE's iTwinkle lights, which can be controlled using a smartphone or tablet. Users can customize their holiday lighting like never before by adding a dimmer, pattern, color, music and even a voice to their holiday displays. GE's iTwinkle is a new way to interact with holiday lighting in a smart, simple way.
- Dual Color: Dual Color lights offer two colors on one light string. This new technology allows consumers to use either the GE Colorite Warm White or LED Multi-Color.
- ConstantON®: GE's ConstantON® technology will save countless frustrated holiday decorators this season, with technology that ensures that if one bulb burns out, the remaining lights on the string will stay lit.

The event will air on public television throughout the month of December. For broadcast times, check local listings or the National Christmas Tree Lighting website at www.thenationaltree.org.

About GE Lighting
GE Lighting invents with the vigor of its founder Thomas Edison to develop energy-efficient solutions that change the way people light their world in commercial, industrial, municipal and residential settings. The business employs about 13,000 people in more than 100 countries, and sells products under the reveal® and energy smart® consumer brands, and Evolve™, GTx™, Immersion™, Infusion™, Lumination™, Albeo™ and Tetra® commercial brands, all trademarks of GE. General Electric (NYSE: GE) works on things that matter to build a world that works better.
Contact:

GE Lighting - Megan Lavelle
+1-216-266-9702
E-mail:

Web site:

Submit new products, case studies/projects, and other press releases at http://www.ledsmagazine.com/content/leds/en/addcontent.html and http://www.ledsmagazine.com/content/leds/en/iif/add.html.