SAN JOSE, Calif. - Xicato, a leading manufacturer of intelligent light sources, announced today the appointment of Webster Chu as Applications Support Manager for its customers in Asia. For the last 15 years, Webster has been a field application engineer supporting customers in the semiconductor, LED and power electronics industries across Asia. Prior to joining Xicato, Webster was the Product Development Manager at GRE Alpha where he leads the development of over 200 models of LED drivers and managed the technical support team for the company's global base of customers.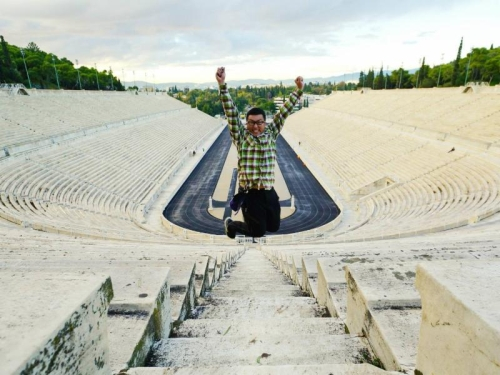 Xicato expands Asia-Pacific support for LED light source customers
Webster Chu, Application Support Manager for Xicato in Asia was excited to visit the 1st Olympic stadium in Greece.

"As the lighting industry continues to more closely integrate light sources, power electronics and controls gear, customers will need increasingly more access to knowledge bases and experienced engineers. I believe that more than ever, the applications role will be key to the successful development and launch of new and more integrated lighting products," said Webster Chu.

Webster is an avid photographer and enjoys travelling the world in search of new experiences, places and people to photograph.

About Xicato
Xicato designs and develops light sources that enable architects, designers and building managers to create beautiful, smart spaces people love to live and work in. With thousands of installations around the globe, Xicato continues to be the leading supplier of high quality light. By integrating electronics, software and connectivity, Xicato is defining the future of intelligent light sources.

Xicato's headquarters and manufacturing is based in Silicon Valley and the company has offices in China, Japan, Europe and the US. Founded in 2007, Xicato's focus on high quality light and reliability has won praise from the lighting community and end-users alike and was recently recognized as "Best Industrial Partner" by the Professional Lighting Design Conference. Installations using Xicato range from retail and museums to restaurants and hotels.

Contact:

Shaina Pinell, Marketing Manager - Xicato
+1-720-331-5625
E-mail:

Web site:

Submit new products, case studies/projects, and other press releases at http://www.ledsmagazine.com/content/leds/en/addcontent.html and http://www.ledsmagazine.com/content/leds/en/iif/add.html.