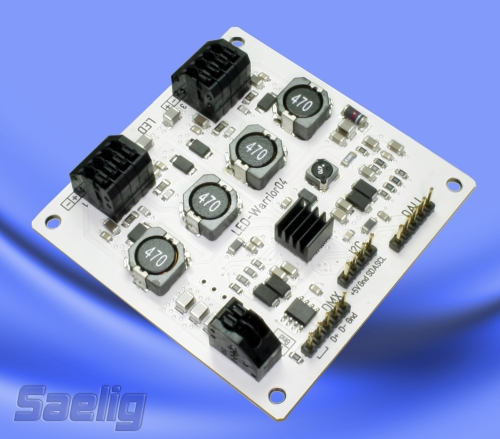 Fairport, NY: Saelig Company Inc. has announced the LED-Warrior04 - setting a new standard for LED driver flexibility. This 4 channel, intelligent, programmable LED constant-current driver has DALI, DMX512, and I2C interfaces on board, while other bus protocols or wireless options can be added via the I2C interface. For each of the four channels, the forward current and brightness of the LEDs can be individually and independently programmed. Current can be programmed from 80 mA to 1000 mA in 5mA steps. Brightness is controlled by internal 12-bit PWMs for each channel, allowing 4096 steps, with dimming down to 1/4096 or 0.024%. The programmability of the LED forward current means that just one type of driver board can be used with a wide range of LEDs. The high resolution of brightness control allows precise color mixing or calibration of multiple LED groups. The four 12-bit channels allow up to 281 trillion color hues.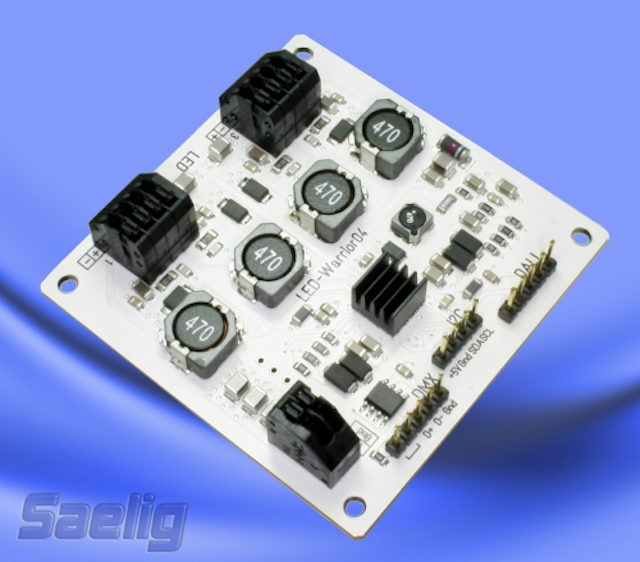 Saelig LED-Warrior04 LED controllers handle up to four LED lamps using DALI protocol

I2C, DMX512 and DALI interfaces are available for controlling the four channels. The I2C interface also allows Light scenario programming for standalone operation for running independent effects like fading or color change. This interface can also be used for service - to recalibrate already installed units, for instance. The LED-Warrior04 allows more design options by offering a rich feature set and in-system programmability. A whole range of LED drivers can be replaced by this single device, and the lamp-specific features can be easily set by software. The LED-Warrior04 operates with DC input from 7V to 32V and drives up to 4 x 25W to the connected LEDs at up to 94% efficiency.

Lighting 4.0: After burning, glowing, and fluorescence, the next logical step is intelligent light. LEDWarrior04 is a Lighting 4.0 product, adding intelligent functionality to light. The switch/lamp paradigm is over since it does not access the potential of LEDs for reaction/interaction, color mixing, and other intelligent applications. LEDWarrior04 now makes the full potential of LEDs available by rethinking lighting!

Made by Code Mercenaries, a leading European supplier of industrial input devices and peripherals, LED-Warrior04 modules are available now from their USA distributor Saelig Company, Inc. For detailed specifications, or technical assistance, please contact Saelig at 1-888-7SAELIG, via email: info@saelig.com, or visit www.saelig.com.

About Saelig Company Inc.
Founded in 1988 in Rochester, New York, Saelig is a North American distributor with a growing reputation for finding and sourcing remarkable, unique test and measurement and control products and components for use in a wide variety of industries. Products lines are continuously added from sources across the globe, and are offered at competitive prices, accompanied by full in-house technical support, exceptional customer service, and fast delivery.
Contact:

Saelig Company Inc.
+1-585-385-1750
E-mail:

Web site:

www.saelig.com

Submit new products, case studies/projects, and other press releases at http://www.ledsmagazine.com/content/leds/en/addcontent.html and http://www.ledsmagazine.com/content/leds/en/iif/add.html.