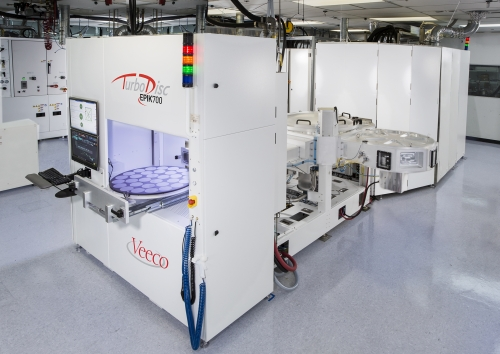 PLAINVIEW, N.Y. - Veeco Instruments Inc. (Nasdaq: VECO) has announced that Sanan Optoelectronics, the largest LED manufacturer in China, has ordered 50 TurboDisc® EPIK700™ Gallium Nitride (GaN) Metal Organic Chemical Vapor Deposition (MOCVD) reactors for the production of light emitting diodes (LEDs). This order is the equivalent of 25 EPIK700 MOCVD "C2" (cluster) systems. In keeping with its bookings policy, Veeco will record the purchase order as deposits are received.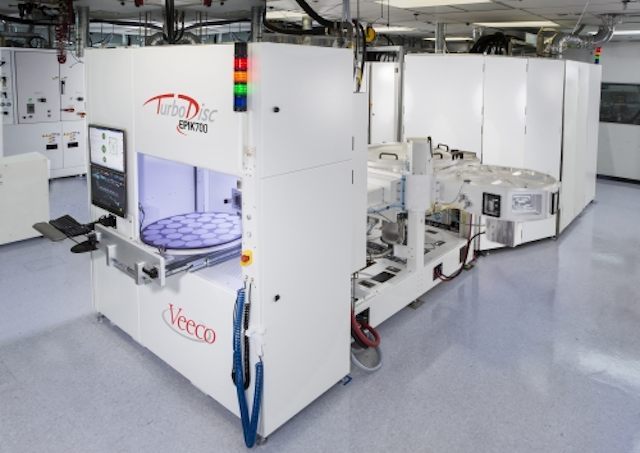 Veeco lands 50-unit order for MOCVD reactors from LED manufacter Sanan Optolectronics

"Sanan chose the EPIK700 due to its industry leading cost of ownership model and excellent footprint efficiency," said Zhiqiang Lin, Vice Chairman and CEO of Sanan. "Our beta testing of EPIK700 proved its production-worthiness, and we are confident in its capabilities and value to our Xiamen business expansion plans. Veeco has been a great partner for Sanan as we have solidified our position as the top LED manufacturer in China and increased our business outside of China as well."

Based on Veeco's proven TurboDisc technology, the EPIK700 MOCVD system enables customers to achieve a cost per wafer savings of up to 20 percent compared to previous generation MOCVD systems through improved wafer uniformity, reduced operating expenses and increased productivity.

"This large order from Sanan, the largest single purchase order Veeco has received since 2009, speaks volumes about the EPIK700's production readiness and the recovery in the MOCVD market," said John Peeler, Veeco's Chairman and Chief Executive Officer. "We are in a great position to continue to serve our LED customers with the best MOCVD technology and customer support, and remain the industry leader."

About TurboDisc EPIK700 GaN MOCVD SYSTEM
Veeco's new breakthrough EPIK700 MOCVD system is the LED industry's highest productivity MOCVD system that reduces cost per wafer by up to 20 percent compared to previous generations. Available in one-and two-reactor configurations, EPIK700 features breakthrough technologies including the new IsoFlange™ and TruHeat™ technologies that provide homogeneous laminar flow and uniform temperature profile across the entire wafer carrier. These technological innovations produce wavelength uniformity to drive higher yields in a tighter bin. EPIK700 offers a 2.5x throughput advantage over other systems due to its large reactor size. Designed for mass production, EPIK700 accommodates 31x4", 12x6" and 6x8" wafer carrier sizes. Customers can easily transfer processes from existing TurboDisc systems to the new EPIK700 MOCVD platform for quick-start production of high quality LEDs. Because of the flexible EPIK700 MOCVD platform, more upgrades, added benefits and future enhancements will continue to differentiate this world-class system.

About Sanan Optoelectronics Co. Ltd.
Sanan Optoelectronics Co. Ltd., headquartered in Xiamen, China, is the largest manufacturer of LEDs in China. The company operates through the following business divisions: Electronics Technology Research, Semiconductors Production, and Marketing. The Electronics Technology Research division provides research services in the areas of light emitting diode and solar power. The Semiconductors Production division manufactures LED chips and wafers, solar cells, and photodiodes. The Marketing division is involved in promoting and selling the company's products and services. Additional information can be found at http://www.sanan-e.com/en/.

About Veeco
Veeco's process equipment solutions enable the manufacture of LEDs, flexible OLED displays, solar cells, power electronics, hard drives, MEMS and wireless chips. We are the market leader in LED, MBE, Ion Beam and other advanced thin film process technologies. Our high performance systems drive innovation in energy efficiency, consumer electronics and network storage and allow our customers to maximize productivity and achieve lower cost of ownership. For information on our company, products and worldwide service and support, please visit www.veeco.com.

To the extent that this news release discusses expectations or otherwise makes statements about the future, such statements are forward-looking and are subject to a number of risks and uncertainties that could cause actual results to differ materially from the statements made. These factors include the risks discussed in the Business Description and Management's Discussion and Analysis sections of Veeco's Annual Report on Form 10-K for the year ended December 31, 2013 and in our subsequent quarterly reports on Form 10-Q, current reports on Form 8-K and press releases. Veeco does not undertake any obligation to update any forward-looking statements to reflect future events or circumstances after the date of such statements.
Contact:

Jeffrey Pina - Veeco
516-677-0200 x1222
E-mail:

Web site:

Submit new products, case studies/projects, and other press releases at http://www.ledsmagazine.com/content/leds/en/addcontent.html and http://www.ledsmagazine.com/content/leds/en/iif/add.html.