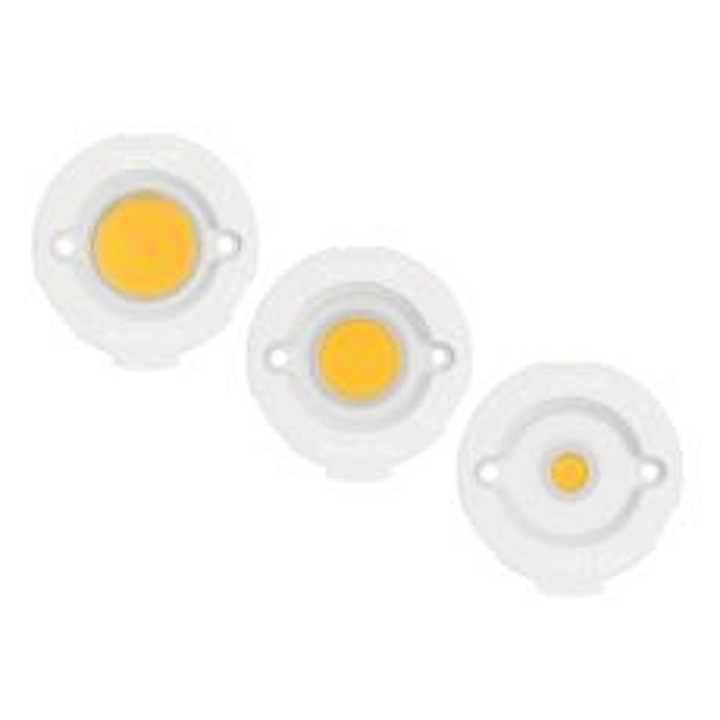 Demonstrating its expertise in solid state lighting innovation, North American lighting leader OSRAM SYLVANIA is showcasing the OSRAM PrevaLED® Core Z3 LED Light Engine, a Zhaga Book 3 compliant, high-efficacy, high-power light source for spot and downlight applications at LIGHTFAIR® International (LFI®) 2014. Offering efficacy of up to 121 lumens per watt, these 2-inch diameter round light engines are operable over a wide range of drive currents (300-1200 mA), reducing luminaire design-in time and providing easy tuning of fixtures for specific applications. Dimmable down to 1 percent with the OSRAM OPTOTRONIC® Programmable power supplies, the PrevaLED Core Z3 is also designed with poke-in wire connectors for easy integration into luminaires.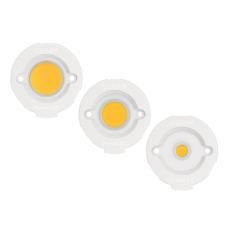 OSRAM SYLVANIA will be demonstrating the PrevaLED Core Z3 and a full portfolio of solid state and traditional lighting solutions, controls and systems at Booth #3108 at LFI® 2014, the world's largest annual architectural and commercial lighting trade show and conference. LFI 2014 is sponsored by the Illuminating Engineering Society (IES) and the International Association of Lighting Designers (IALD). OSRAM SYLVANIA has been supporting LFI since its inception 25 years ago, bringing fully integrated lighting products and services that take lighting designers, end users, luminaire manufacturers and service providers beyond the boundaries of conventional lighting.
According to the international Zhaga Consortium, Zhaga specifications benefit manufacturers, distributors, specifiers and end users of lighting products. For recessed downlight, track and task lighting manufacturers, Zhaga Book 3 compliant solutions like the PrevaLED Core Z3 provide faster time to market and consistency for new next generation products. Given the rapid evolution of LED technology, specifiers don't have to worry about specifying solutions that will be outdated when the project is actually installed. Luminaires can be specified for future projects with the peace of mind that a current Zhaga Book 3 compliant LED light source can be fitted at the time of installation.
"Our partners need solutions that reduce complexity, and when it comes to luminaire design for recessed downlights, accent and track applications, that means easy installation, consistent form factor and a wide variety of options," said David Lidrbauch, product marketing manager, Light Engines & Modules, OSRAM SYLVANIA. "The OSRAM PrevaLED Core Z3 Light Engine offers exactly that through a combination of Zhaga Book 3 compliant components, consistent light quality over successive generations, and being operable over a wide range of drive currents with multiple lumen, color temperature and color rendering options available."
Featuring a long rated life of 50,000 hours (L70) and a 120° beam angle, the PrevaLED Core Z3 is available in four lumen packages (1100, 2000, 3000 and 5000), four color temperatures (2700K, 3000K, 3500K and 4000K) and two color rendering index options (80 and 90), allowing for further flexibility in luminaire design. The light engines are compatible with widely available optics, heat sinks, and housing accessories. When paired with OPTOTRONIC® constant current LED power supplies, these light engines offer superior system flexibility and are covered by a five-year warranty.
Additional LightFair International displays by OSRAM SYLVANIA:
PrevaLED Cube Family Of Light Engines
OSRAM SYLVANIA announced next generation versions of OSRAM PrevaLED® Cube DC and AC LED Light Engines with improved performance and price, in addition to LEDset 2 interface and DALI functionality, making them truly global solutions for luminaire manufacters.
"The OSRAM PrevaLED Cube family continues to push the envelope of performance and simplicity," said Lidrbauch. "We've made it easy for luminaire manufacturers to transition to next generation PrevaLED Cube LED Light Engines, benefitting from improved performance and enhanced functionality without hassle. For example, upgrading to the new light engines does not require changes to the fixture UL1598 file, and photometric performance and color will remain consistent. This helps minimize design complexity for OEMs as they transition to new generation technology to maintain a competitive and consistent fixture portfolio."
OSRAM PrevaLED Cube DC LED Light Engine
The high performance OSRAM PrevaLED Cube DC LED Light Engines are operable over a wide range of drive currents (less than 300-1200 mA), reducing luminaire design-in time with easy tuning of light output for specific applications. With a steady-state efficacy up to 108 lumens per watt (LPW), it now features DALI compatibility and LEDset 2 interface that reduces manual programming by improving compatibility with power supplies and supports higher maximum temperatures. The light engine's high maximum operating temperature enables high ambient temperature fixture applications and eases Type-IC fixture design. Compatible with programmable power supplies, such as the OSRAM OPTOTRONIC® Programmable Constant Current LED Power Supplies, the PrevaLED Cube DC light output can also be precisely tuned so luminaire manufacturers can match lumen output across a portfolio of fixtures, giving the OEM the ability to deliver exactly what project specifications need. Smoothly dimmable down to 1 percent, the light engine is ideally suited for use in highly diffuse wall-mounted and ceiling-mounted luminaires in decorative, hospitality or residential applications, as well as a broad range of reflector-based designs such as downlights. The PrevaLED Cube light engine recently won an Architectural SSL Product Innovation Award and a Gold 2014 ADEX Award from Design Journal.
OSRAM PrevaLED Cube AC LED Light Engine
The OSRAM PrevaLED Cube AC LED Light Engine is a high performance 277VAC input module with an integrated driver, requiring no additional power supply, and does not have strobing or flicker characteristic of most other integrated AC LED modules. The PrevaLED Cube AC now offers improved performance with steady-state efficacy up to 106 LPW, utilizing only 11W to 31W, compared to up to 86 LPW using 13W to 48W in the previous version. With its long life and high efficacy, the light engines are the ideal replacement for CFL, incandescent, halogen and HID lamps in recessed or surface-mounted downlights, shallow wall sconces and ambient lighting luminaires.
Both the OSRAM PrevaLED Cube AC and DC LED Light Engines are available in three lumen packages including 1100, 2000 and 3000 and four color temperatures including 2700K, 3000K, 3500K and 4000K. The LED modules have a long rated lamp life of 50,000 hours (L70), minimizing maintenance frequency and replacement costs. The OSRAM light engines also feature a lower profile design than other options on the market, enabling them to be used in surface-mounted and wall wash fixtures. The low-profile form factor is compatible with many existing fixture housings, optics, and accessories, allowing for reduced design-in time for luminaire manufacturers. Further, the PrevaLED Cube has an aesthetically pleasing soft white face when powered off, as opposed to the bug-light yellow found in comparable LED light engines.
LINEARlight FLEX Protect Family Of LED Modules
OSRAM SYLVANIA is featuring the OSRAM LINEARlight FLEX® Protect LED linear modules, a family of flexible, high performance white and RGB LED modules ideal for a range of outdoor applications including cove, façade, path/contour, and wayfinding applications. The linear LED modules are UL2108 Listed for direct use as a low voltage luminaire and IP67-rated, ensuring protection against dust and exposure to rain.
Recently winning an Architectural SSL Product Innovation Award, the OSRAM LINEARlight FLEX Protect LED modules enable the creation of uniform lines of white or colored light that conform to any curve or contour. Designed on a flexible substrate, these modules are available in three versions -- Advanced, POWER FLEX and Colormix -- with a self-adhesive backing that allows for easy installation into straight runs or around curved surfaces with a radius as tight as 1.9 inches (50mm). At 32.8 feet per reel, the Advanced family has an output of up to 119 lumens per foot. At 16.7 feet per reel, the POWER FLEX family of modules has a high output of up to 428 lumens per foot for brighter applications. At 13.1 feet per reel, the Colormix module offers an RGB version that may be set to a static color or configured to create a dynamic color-changing scheme. All versions feature multiple cutting points along the flexible encapsulated circuit board for creating precise, custom lengths of LEDs allowing for great design freedom when illuminating straight and curved surfaces in outdoor applications. The LINEARlight FLEX Protect modules offer a long 50,000 hour rated life (L70) and are available in three color temperatures each: 3000K, 4000K and 7000K (Advanced only) or 7600K (POWER FLEX only) and RGB.
"The LINEARlight FLEX Protect LED modules offer tremendous flexibility in luminaire design and installation locations and are ideal for outdoor backlighting, border lighting, façade accent lighting, and path lighting in straight runs or curves," said Rob Hamerstrom, product marketing manager, LED Modules, OSRAM SYLVANIA.
Offering easy installation with available track and connector accessories, the OSRAM linear LED modules are UL-listed as low voltage lighting systems and may be installed directly into end-use applications without additional fixture equipment. LINEARlight FLEX Protect modules are very energy efficient, with efficacies up to 81 LPW, and are designed for optimal operation using OPTOTRONIC® 24VDC power supplies and controls covered by a five-year system warranty.
For more information about innovative lighting solutions from OSRAM SYLVANIA, please go to www.osram-americas.com/lightfair or visit Booth #3108 at LIGHTFAIR International 2014, June 3-5, 2014 at the Las Vegas Convention Center in Las Vegas, Nevada.
About OSRAM SYLVANIA Inc.
OSRAM SYLVANIA is part of OSRAM Americas, a group of OSRAM companies located in North and South America. As a leader in lighting solutions and services, specializing in innovative design and energy saving technology, the company sells products for homes, businesses and vehicles under the brand names OSRAM, Traxon, ENCELIUM and SYLVANIA. The company's portfolio covers the entire value chain of components, ranging from lamps, control units and optical semiconductors such as light-emitting diodes (LED) to luminaires, light management systems and lighting solutions. The OSRAM SYLVANIA and OSRAM Americas regional headquarters is located in Danvers, Massachusetts. For more information, visit www.osram-americas.com or follow us on Facebook at www.facebook.com/sylvania and on Twitter at www.twitter.com/SYLVANIA.
OSRAM, OPTOTRONIC, PrevaLED and LINEARlight FLEX are registered trademarks of OSRAM GmbH.
SYLVANIA is a registered trademark of OSRAM SYLVANIA Inc.
All other trademarks are those of their respective owners.
Contact:
Glen Gracia - OSRAM SYLVANIA
+1-978-750-2763