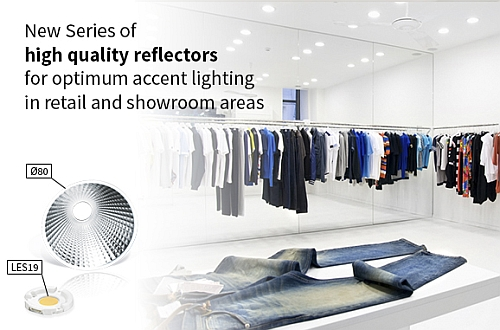 New series of high quality reflectors for optimum accent lighting in retail and showroom areas.

ACL-Lichttechnik GmbH is presenting a new spotlight reflector series for the latest LED generations currently on the market. It combines highest light output ratios with precise and uniform light distributions.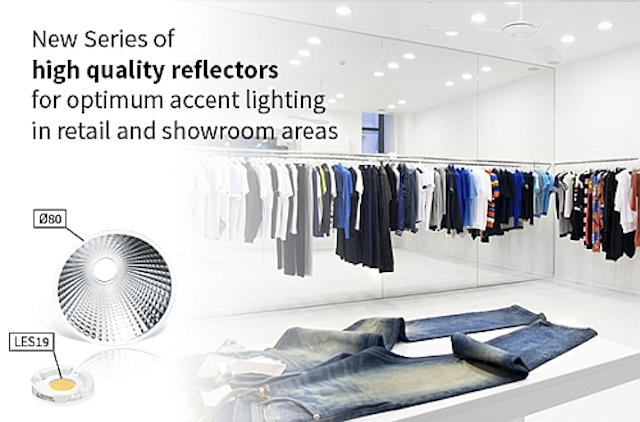 ACL-Lichttechnik spotlight reflectors are suited for use with Zhaga-compliant LED modules

The new reflector series comprises three highly specular models with different beam patterns ranging from spot to flood ensuring precise lighting. The overall diameter of all models is 80mm and can be easily enlarged. With the exception of the narrow beam version each reflector is equipped with an ACL-specific state-of-the-art convex faceting guaranteeing a homogenous light.

All models are ideally suited for use with the latest Zhaga-compliant LED modules

- Philips Fortimo SLM gen4 LES 19
- Osram PrevaLED Core Z4 LES 19
- Tridonic TALEXX STARK SLE gen4 LES 18
- Vossloh-Schwabe LUGA Shop COB 2014 LES 20.6

as well as for

- Bridgelux Vero 18 LES 18.4
- Citizen CLL042 LES 22

Product data of reflectors for Zhaga-compliant LED modules
ACL order code Diameter Height Beam Spread
6277(S)HGL FAC 80 mm 50 mm narrow
6278(S)HGL KFAC 80 mm 50 mm medium
6279(S)HGL KFAC 80 mm 50 mm flood

Contact:

ACL-Lichttechnik GmbH
+49(0)2173-9753-12 / -13 / -14

E-mail:

Web site:

Submit new products, case studies/projects, and other press releases at http://www.ledsmagazine.com/content/leds/en/addcontent.html and http://www.ledsmagazine.com/content/leds/en/iif/add.html.