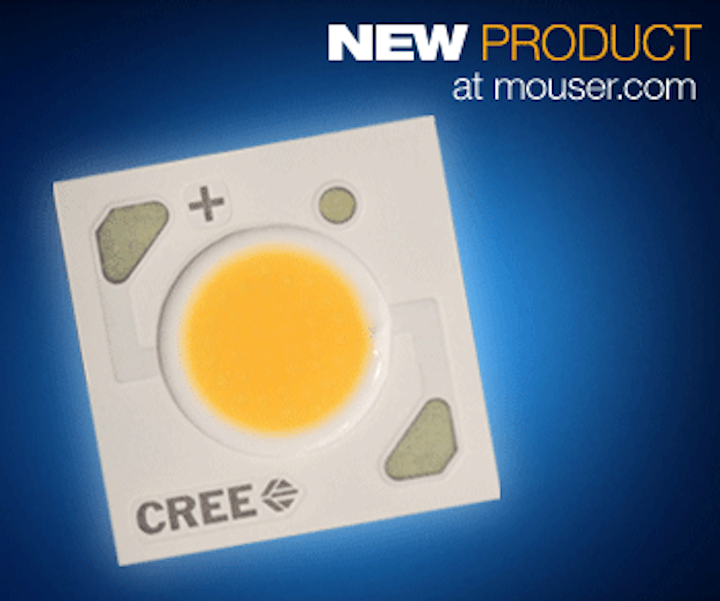 Mouser Electronics, Inc. is now stocking the XLamp CXA High-Density (HD) LED Arrays from Cree. Targeted for high-intensity, LED lighting applications, the Cree XLamp® CXA2590, CXA1850 and CXA1310 High-Density LED Arrays double the light output of existing standard-density CXA LED arrays without increasing size. The greater light intensity of these devices offer new levels of lumen density and is rated one of the highest in the industry, allowing complete replacement of ceramic metal halide (CMH) light sources.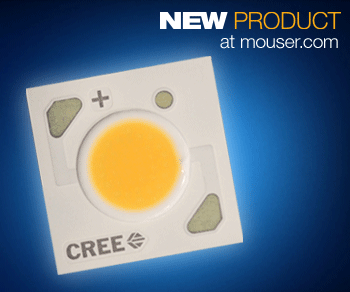 Mouser Electronics stocks Cree XLamp CXA HD LED arrays for high-intensity LED lighting applications

The Cree XLamp CXA High-Density (HD) LED Arrays, available from Mouser Electronics, deliver up to 15,500 lumens, and are characterized and binned at 85°C. The CXA HD LED Arrays are available in ANSI White and EasyWhite® 4-step and 2-step color temperatures ranging from 2,700K up to 6,500K, and offer a minimum Color Rendering Index or CRI of 70, 80 and 93. With multiple size and lumen-output options, these CXA HD LED Arrays enable manufacturers to address a wide range of lighting applications. Manufacturers can also take advantage of how these high density LEDs allow users to improve lighting output without taking up more space.

The CXA1850 LED Array delivers more than 9,000 lumens from a 12-mm light source, enabling the same lighting quality as a 70-watt CMH light source while using half the power. For manufacturers looking to design smaller, more-efficient track lights with twice the brightness of a CMH light source that use 30 percent less power, The Cree CXA1310 LED Array provides more than 2,000 lumens in a 6-mm light source. Lastly, the CXA2590 LED Array emits more than 15,500 lumens from a 19-mm light source, enabling luminaires with the same brightness and light quality of a 150-watt CMH light source at lower power.

Cree's robust CXA HD LED Arrays provide unmatched, industry-leading lumen density, enabling a major reduction in system cost and power consumption, while expanding the breadth and depth of applications that could not be addressed by previous LED technologies. From directional indoor-lighting and accent lighting, to track lighting and spot lights, these devices shed the perfect amount of light intensity for next generation LED lighting applications.

To learn more, visit http://www.mouser.com/new/cree/cree-cxa-hd-led/.

With its broad product line and unsurpassed customer service, Mouser caters to design engineers and buyers by delivering What's Next in advanced technologies. Mouser offers customers 20 global support locations and stocks the world's widest selection of the latest semiconductors and electronic components for the newest design projects. Mouser Electronics' website is updated many times per day and searches more than 10 million products to locate over 4 million orderable part numbers available for easy online purchase. Mouser.com also houses an industry-first interactive catalog, data sheets, supplier-specific reference designs, application notes, technical design information, and engineering tools.

About Mouser Electronics
Mouser Electronics, a subsidiary of TTI, Inc., is part of Warren Buffett's Berkshire Hathaway family of companies. Mouser is an award-winning, authorized semiconductor and electronic component distributor, focused on the rapid introduction of new products and technologies to electronic design engineers and buyers. Mouser.com features more than 4 million products online from more than 500 manufacturers. Mouser publishes multiple catalogs per year providing designers with up-to-date data on the components now available for the next generation of electronic devices. Mouser ships globally to over 400,000 customers in 170 countries from its 492,000 sq. ft. state-of-the-art facility south of Dallas, Texas.

About Cree
Cree is a market-leading innovator of lighting-class LEDs, LED lighting, and semiconductor solutions for power applications. Cree's product families include high-brightness LEDs, lighting-class power LEDs, and power-switching devices. Cree's LED solutions are driving improvements worldwide in applications such as backlighting, electronic signs and signals. Cree is also among the world's leading manufacturers of silicon carbide-based diodes for power control and management, providing increased efficiency in a variety of applications from solar inverters to industrial motor drivers to wireless technologies.

Trademarks
Mouser and Mouser Electronics are registered trademarks of Mouser Electronics, Inc. All other products, logos, and company names mentioned herein may be trademarks of their respective owners.

Contact:

Kevin Hess - Mouser Electronics
+1-817-804-3833
E-mail:

Web site:

www.mouser.com

Submit new products, case studies/projects, and other press releases at http://www.ledsmagazine.com/content/leds/en/addcontent.html and http://www.ledsmagazine.com/content/leds/en/iif/add.html.