XL Video is excited to announce the launch of its new multilingual, multi-country website.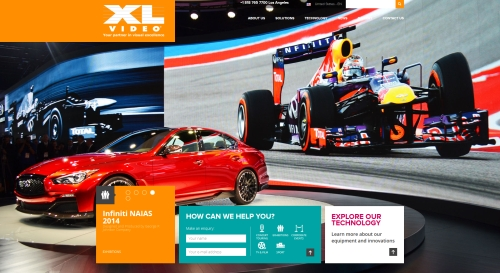 Working with Eindhoven-based digital agency, Beachhead, the site has been developed over several months in line with XL's group strategy.
The detailed specification for the website was created by a team with input from all XL's offices worldwide and included the key requirement that the new site must have a mobile-friendly responsive design. This aim reflects the growing demand of website-visitors for an online experience that is equally good whether the user is browsing on a smartphone, computer or tablet.
XL Video's new website is designed to be used by clients looking for video solutions in their chosen market sectors, as well as providing an information resource for technical producers and technicians with details of the technology items XL uses for its projects.
The new XL Video website provides a multi-lingual experience – with versions in English, French, German, Dutch/Flemish, and, for the first time, Chinese. The inclusion of Chinese supports XL's ability to provide video rental solutions in China and Asia.
Lucas Covers, group CEO of XL Video commented: "With so much global website traffic now being mobile, we wanted to ensure that our website would be a good experience for visitors whether they're in an office on a computer, or out on an event and using a smartphone. We believe that the new website showcases the best of our work and the ease of use will enable visitors to the site to contact us easily to make enquiries."
XL Video's new website can be found at http://www.xlvideo.com.
Contact:
XL Video
+44-(0)1442-849400