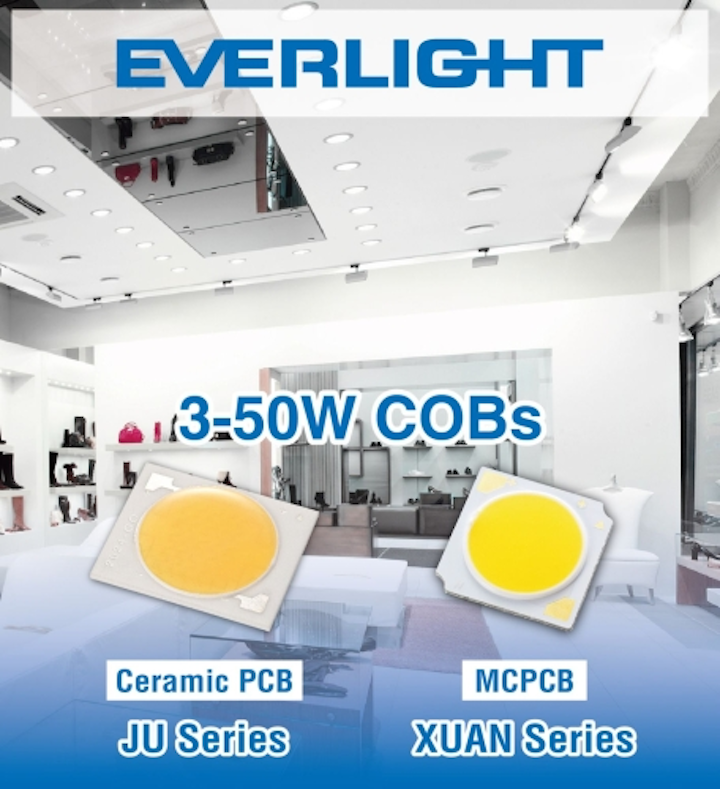 Natural Light LEDs will provide a color quality >95Ra CRI for the high-end, professional lighting market

Shulin, New Taipei City -- EVERLIGHT ELECTRONICS CO., LTD. [TSE:2393], a leading player in the global LED and optoelectronics industry, supplements its LED Lighting product portfolio, currently featuring a market-standard CRI of >80Ra, with higher color quality versions. The new Natural Light LED variants will provide a CRI >95Ra, averaging 98Ra. EVERLIGHT is pursuing this goal a step at a time. The first LED series to implement the Natural Light Technology is EVERLIGHT's 3-50W Ceramic COBs (JU Series) and Metal PCB COBs (XUAN Series). All other LEDs will offer Natural Light versions in Q4 of 2014.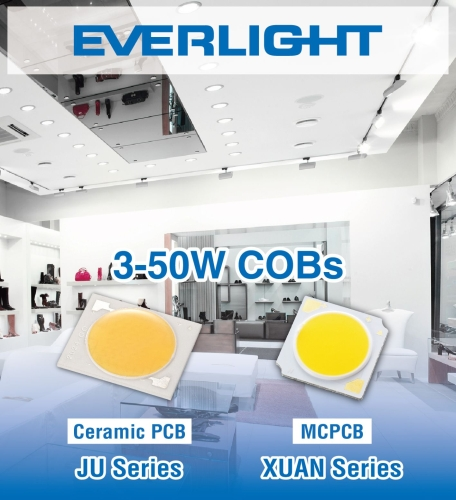 Everlight debuts 'Natural Light Technology' in COB LEDs for high-end illumination
Image 'COB': EVERLIGHT's 3-50W Ceramic COBs (JU Series) and Metal PCB COBs (XUAN Series). (Structures and materials depend on demand of client).

Color rendering, a quality characteristic of light, is the effect of an illuminant on the color appearance of an object by conscious or subconscious comparison with their color appearance under a reference illuminant. One major objective of LED lighting manufacturers is to achieve a light quality that can replace or emulate the ultimate reference of the sun. In other words: a CRI of 100Ra. To reach this goal would bring sunlight indoors, sustain sunlight during the night, replace traditional incandescent and halogen lamps which usually feature high color quality, and change the way we perceive and appreciate our surroundings.

Sampling and technical support: Available now (upon request) Mass Production: Q4/2014

More information or data sheet for this product upon request: Please contact your local EVERLIGHT sales office. Local sales information: www.everlight.com.

"The Right LED for the Right Application"
A dedicated application-based marketing approach supports the idea that every application is to be paired with "The Right LED" to provide the best performance and quality. Every package design presents its own advantages in certain applications.

EVERLIGHT is fostering close relationships between their R&D, Sales and Marketing teams to meet and exceed their customers' expectations in both product offering and technology. EVERLIGHT a great variety of customers with total solutions for their different applications and is incessantly committed to satisfy the strongly growing global market for LED solutions.

About EVERLIGHT Electronics Co. Ltd.
EVERLIGHT Electronics Co., Ltd. was founded in 1983 in Taipei, Taiwan. Playing a critical role in the formation of the global LED industry, the company has rapidly become a leading worldwide supplier due to its dedication to certification, R&D, production, quality, marketing and global customer service. EVERLIGHT provides a comprehensive optoelectronics product portfolio consisting of high power LEDs, lamps, SMD LEDs, LED lighting modules, digital displays, optocouplers and infrared components for various applications. Today, EVERLIGHT is a global company with over 5,600 employees based in China, Hong Kong, Japan, Korea, Singapore, Malaysia, Germany, Sweden, U.S., and Canada. Please visit us at www.everlight.com

Contact:

Everlight Electronics Europe GmbH
+49-0721-824-473
info@Everlight-eu.de

Everlight Americas, Inc.
+1-972-490-4008
E-mail:

salesmarketing@everlightamericas.com
Web site:

www.everlight.com

Submit new products, case studies/projects, and other press releases at http://www.ledsmagazine.com/content/leds/en/addcontent.html and http://www.ledsmagazine.com/content/leds/en/iif/add.html.