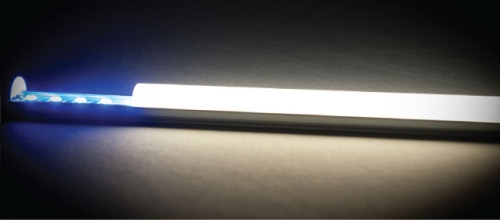 Plymouth, ENGLAND – Plessey has announced that it has entered a long-term commercial agreement with 8point3 Ltd., a Dartford-based LED luminaire manufacturing company. Plessey will be supplying its GaN-on-Silicon MaGICTM LEDs, made at its state-of-the-art semiconductor manufacturing facility in Plymouth, UK, for use in 8point3's new Sabre Architectural range of LED linear lighting products.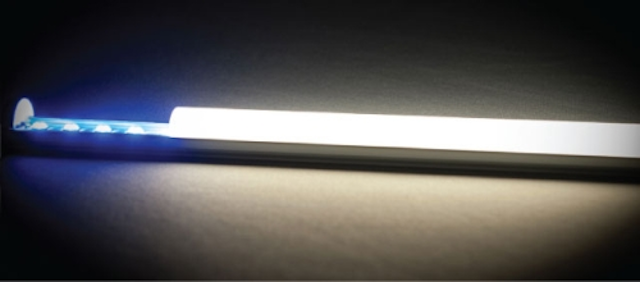 Award-winning 8point3 is a provider of market-leading, energy-saving LED solutions to a wide range of customers across the private and public sector. Following this commercial agreement with Plessey, 8point3's Sabre Architectural lighting products will be able to claim that they are fully made in Britain and will be branded with the official 'Made in Britain' marque.
Managing Director of 8point3, Ashley Bateup, said, "8point3 is proud to design and manufacture alongside best-in-class technology partners within the UK. Our focus has always been to create market leading LED solutions for a wide range of applications. Our agreement with Plessey, the only UK LED Silicon manufacturer, ensures we continue to do this and can continue to offer our customers products and solutions that deliver in terms of quality and efficiency."
Recent performance improvements have enabled Plessey's MaGIC LEDs to be competitive with any LED technology and, when combined with 8point3's Sabre Architectural range, sets out to surpass all other linear lighting solutions. Sabre Architectural combines the benefits of remote phosphor with a unique delivery system, offering unprecedented system efficiencies and economic life. With a wide range of colour temperatures, Sabre Architectural provides a uniform and diffuse luminance and appearance, ensuring no reflections or pixilation, even when dimming. It offers designers a flexible solution for high lumen areas and decorative lighting systems.
Mark Pinnock, Plessey's Regional Sales Manager for Northern Europe and Account Manager for 8point3, stated that, "Plessey are also pleased to confirm that a technology agreement has also been reached, whereby Plessey will design bespoke LED solutions in the UK to complement 8point3's ongoing lighting projects."
Plessey's MaGIC™ (Manufactured on GaN-on-Si I/C) High Brightness LED (HBLED) technology has won numerous awards for its innovation and ability to cut the cost of LED lighting by using standard silicon manufacturing techniques.
Plessey
Plessey is a leading expert in the development and manufacture of semiconductor products used in sensing, measurement and control applications. Plessey's products are found in a wide range of markets including communications, manufacturing, medical, defence and aerospace. Plessey designs products for high performance applications and its range of integrated products includes CMOS image sensors, low and mid-power LEDs, Hall Effect devices and its award-winning EPIC electric potential sensors. Using its understanding of electronics and expertise in micro-electronic product design and manufacture, Plessey is radically enhancing the human experience with micro-electronics solutions such that people achieve more than they thought possible. Plessey is a UK based manufacturer with offices around the US, Europe and Asia.
Contact:
Plessey