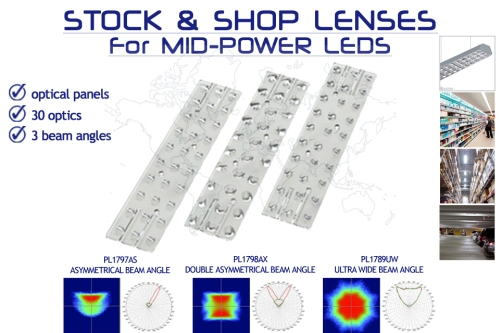 Stock & Shop lenses from Khatod: Nice to meet you! I am the perfect match for mid-power LEDs.

Khatod introduces Stock & Shop lenses - optical panels made of 30 optics for any lighting system using mid-power LEDs. Ideal for commercial, industrial and office spaces that increasingly require solutions able to guarantee high efficiency, energy saving, total respect for the environment and safety rules.

Thirty-optic arrays designed for mid-power LEDs deliver excellent performance also with most popular power LEDs. Ready-to-use optical solutions for lighting systems used in rooms with high bay and low bay frames in commercial, office and industrial structures. Perfectly meet the requirements for applications that need high-efficiency lighting while being energy efficient. Deliver the exclusive opportunity to easily replace conventional lenses in existing light fixtures.

Available in 3 beam angles, providing uniform light distribution:

PL1798AX - Double Asymmetrical Beam
The double asymmetrical beam fits perfectly into aisle-structured areas with shelving on both sides of the aisles; provides uniform double-sided beam while avoiding the glare effect in the middle of the aisle. Efficiency >85%.

PL1797AS - Asymmetrical Beam
Perfect vertical illumination. Avoids any glare or shadows on illuminated parts. Efficiency >85%.

PL1789UW - Ultra Wide Beam
Uniform comfortable light distribution. No glare effect. Perfect for low bay lighting. Efficiency >85%.

General Characteristics:
• High precision injection molded optical panels
• Designed for most popular mid-power LEDs; ensure n excellent performance also with most popular power LEDs
• Can be used in existing light fixtures; remove the old installation and replace it with Stock & Shop lenses
• Allow easy conversion from old conventional fluorescent lamp technology to LED lighting technology

Features:
• Optic type: Rectangular lens arrays with 30 lenses
• Material: PMMA lenses
• Dimensions: 62.00 mm (w) x 279.40 mm (l) x 11/13 mm (h)
• Beam angles: Ultra wide, asymmetrical, double-asymmetrical
• Lighting efficiency: Over 85%
• On request, available with PCB for testing

Typical Applications:
Any application in wide area lighting; provide well distributed and uniform light for open areas such as industrial areas, offices, warehouses, retail shops, malls, supermarkets, outlets, showrooms, libraries, covered parking, etc.

About Khatod:
Khatod products leverage three decades of hands-on experience with the toughest challenges in making lenses in a wide range of applications and environments. Our ability in designing and manufacturing customized optics for LED lighting is already history. Khatod is able to meet the expectations of the most demanding individuals looking for the latest in LED Technology: exclusive products, cutting-edge engineering, research and experimentation. The result is the highest in technology, the easiest in usability, the most cost-effective in business.

Follow us on Twitter @ http://twitter.com/#!/KhatodOPTO and
Facebook @ http://www.facebook.com/pages/Khatod-Optoelectronic-srl/263694230338604
View company video @ http://www.youtube.com/watch?v=G1Opls1D0NU
Contact:

Khatod Optoelectronic S.r.l.
+39-02-660-136-95
E-mail:

Web site:

www.khatod.com

Submit new products, case studies/projects, and other press releases at http://www.ledsmagazine.com/content/leds/en/addcontent.html and http://www.ledsmagazine.com/content/leds/en/iif/add.html.