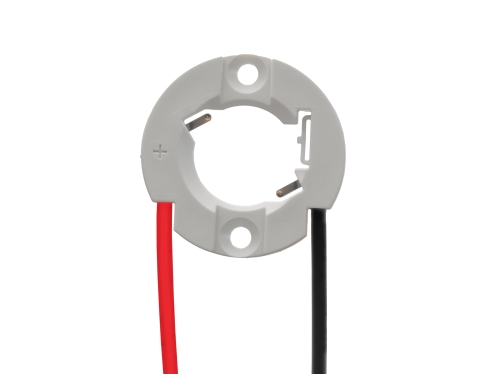 Offers fixture manufacturers excellent wire-to-holder retention with easy, consistent installation

LISLE, Ill. -- Molex Incorporated announced that its first SlimRayTM Pre Wired LED Chip-On-Board (COB) Array Holders reduce assembly time while increasing reliability, with compression contacts that eliminate hand soldering and simplify the LED installation process. The holder for 13.35 by 13.35mm COBs comes as a single piece in a 25.0mm diameter, low 3.15mm profile height, rated at 300 volts DC and 3.0 amps. This design allows optics to be mounted closer to the light emitting surface (LES) and the gold plated compression contacts interface with array pads for stable power connections across a wide range of environments and conditions.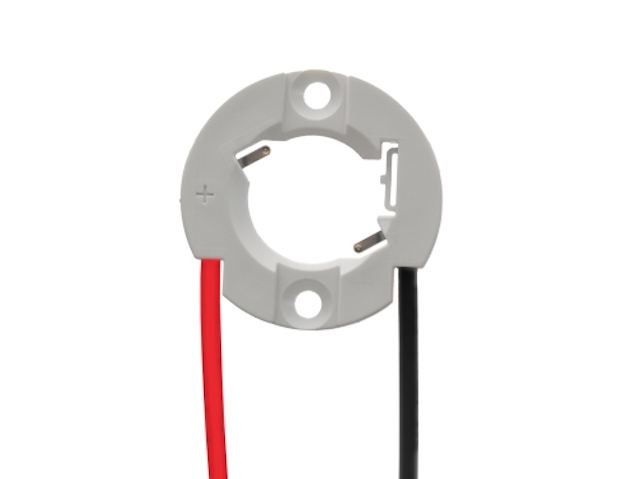 Molex pre-wired LED COB array holders deliver stable electrical and thermal interconnect features

"Soldering wires directly to LED arrays is a time consuming process that can cause reliability concerns. Molex has designed a solderless, pre-wired system that provides lower heights and excellent wire-to-holder retention," said Dave Rios, new product development manager, Molex.

Quality and reliability issues that arise from hand-soldering directly to LED arrays are resolved by means of SlimRay's crimped, pre-stripped, and pre-installed color-coded power wires. The results are reduced installation time and improved overall process consistency and long-term reliability.

A robust housing design helps ensure stable long-term mechanical attachment even in high ambient temperatures. The integrated LED pre-hold tab secures the COB array prior to mounting the assembly to a heat sink for final assembly, minimizing installation time. The stripped wire ends can be easily terminated according to customer preference.

"For lighting manufacturers using LED COB arrays, the Molex SlimRay pre-wired LED COB holder enables quick, easy and reliable installation in all types of fixture applications," adds Rios.

For more information, please visit www.molex.com/link/cob.html. To receive information on other Molex products and industry solutions, please sign up for our e-nouncement newsletter at www.molex.com/link/register.

About Molex Incorporated

Providing more than connectors, Molex delivers complete interconnect solutions for a number of markets including: data communications, telecommunications, consumer electronics, industrial, automotive, commercial vehicle, aerospace and defense, medical, and lighting. Established in 1938, the company operates 45 manufacturing locations in 17 countries. The Molex website is www.molex.com. Follow us at www.twitter.com/molexconnectors, watch our videos at www.youtube.com/molexconnectors, connect with us at www.facebook.com/molexconnectors and read our blog at www.connector.com.

Molex is a registered trademark of Molex, Incorporated.

Contact:

Molex Incorporated - Carol Magosky, Americas Marketing Communications Manager
+1-630-718-5290
E-mail:

Web site:

Submit new products, case studies/projects, and other press releases at http://www.ledsmagazine.com/content/leds/en/addcontent.html and http://www.ledsmagazine.com/content/leds/en/iif/add.html.